The kitchen: where good food and good conversations are shared.
When it comes to designing (arguably) the most functional and family-centric room in the home, it's important to make sure you end up with a kitchen that not only looks the part, but also has the practicality to back her up.

Not sure how to measure for a new kitchen?
We're sharing our top 5 key kitchen measurements you absolutely must know if you're designing a new kitchen and want to have a go at drawing up your own plans.
Let's start at the beginning. When it comes to cabinetry, our kitchens are always custom designed to the space we are working with. This means we need to take into consideration the key measurements below first, and then the rest of our cabinetry is custom measured to fit within these constraints.
Knowing these key kitchen measurements is a great place to begin. It's the difference between your kickboard getting kicked by a door, and a feng shui-like flow that gets breakfast made in 10.5 seconds flat.
Pen, paper and tape measure at the ready? Away we go:
BECAUSE WE HAVE HIGH HOPES
The recommended standard kitchen benchtop height is 900mm.
This is the distance between the finished floor and the top of the benchtop.
If tall genes run in your family #michaeljordan you may want to adjust the working bench height, just so long as it's within 850mm to 1050mm.
Keep in mind that your kitchen benchtop thickness will vary depending on your personal preference and the material of benchtop you choose. Your lower cabinetry will then be designed and measured to fit underneath this fixed height.
LET'S TALK THE TALK, ABOUT WALKING THE WALK
The ideal distance between two benches is 1200mm.
But it usually does come down to the overall size of the kitchen we are working with. If you are finding it tough to fit a 1200mm walkway in your kitchen you can decrease this, but we wouldn't recommend going below 1000mm. Remember, you want to be able to comfortably open drawers without butts bumping into the kitchen island.
TO AVOID BAD FLASHBACKS ABOUT YOUR SPLASHBACKS

The standard kitchen splashback height is 600mm.
The minimum splashback height is 450mm. If you have a wall unit over a sink, then there should be a minimum of 600mm splashback height between the top of the sink and the bottom of the wall unit.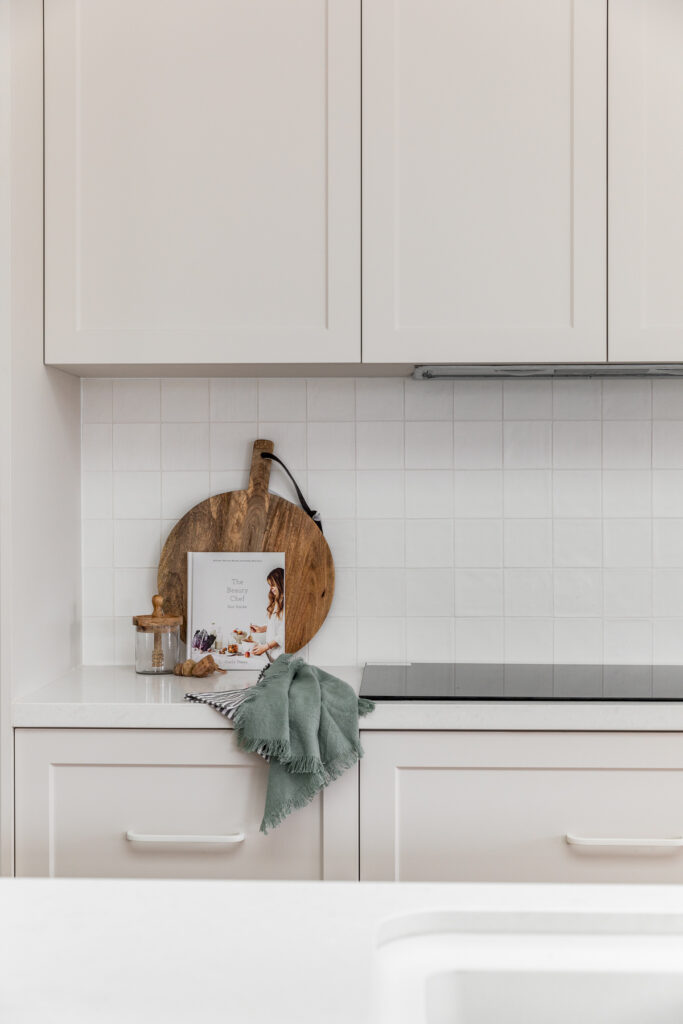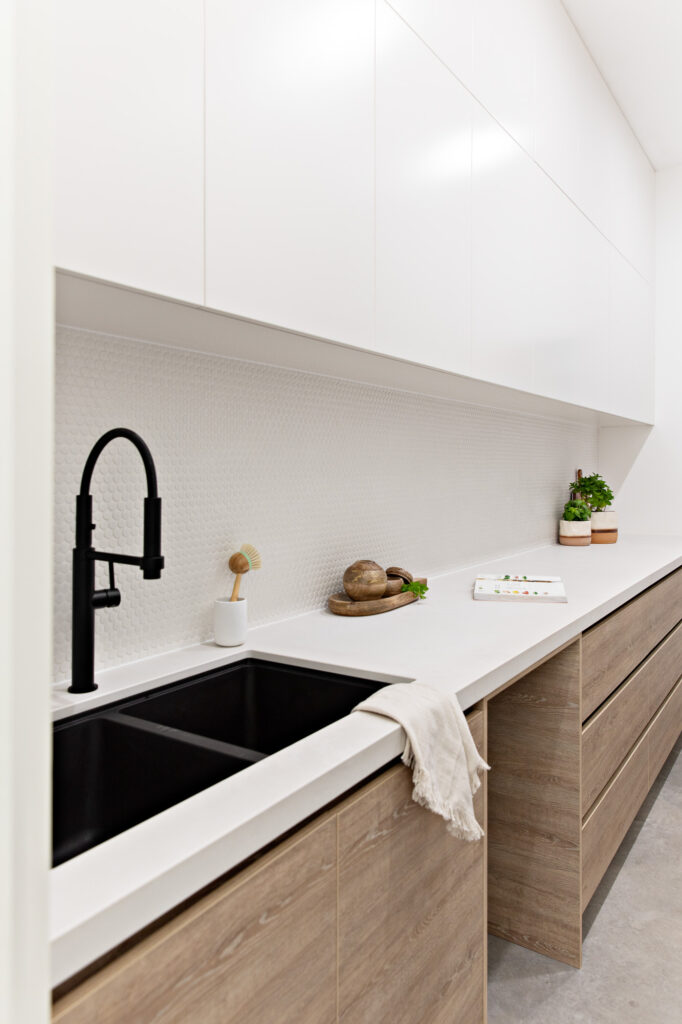 HOW MUCH DO YOU BENCH?
When it comes to kitchen island benches, we reckon the bigger the better!
An ideal island bench width is 1200mm.
Design it to your heart's content, just so long as the size feels in proportion to the rest of the kitchen, and you have allowed enough walkway space around the island bench.
Your decision will also come down to the type of material you are choosing for your benchtops. If your island is beyond the standard size of an engineered stone slab, you may have to have a join. On the flip side, if you go smaller, you may have to waste part of the slab.
A word of warning –
You will pay per slab for engineered stone – not per square metre – so you do not want to be wasting any (let's keep our budget spreadsheets happy!)
Followed by a HOT TIP –
Some suppliers offer oversized jumbo slabs which can eliminate the need for unsightly joins between two slabs. Seek and you shall find.
We often like to use a full Caesarstone slab on our island bench tops. That way we are not wasting any of the slab and don't need any join lines. The additional width enables us to add shallow under bench cabinetry on the overhang side (where we store our board games, wrapping paper, and let's face it, *junk*) and still have room for bar stools.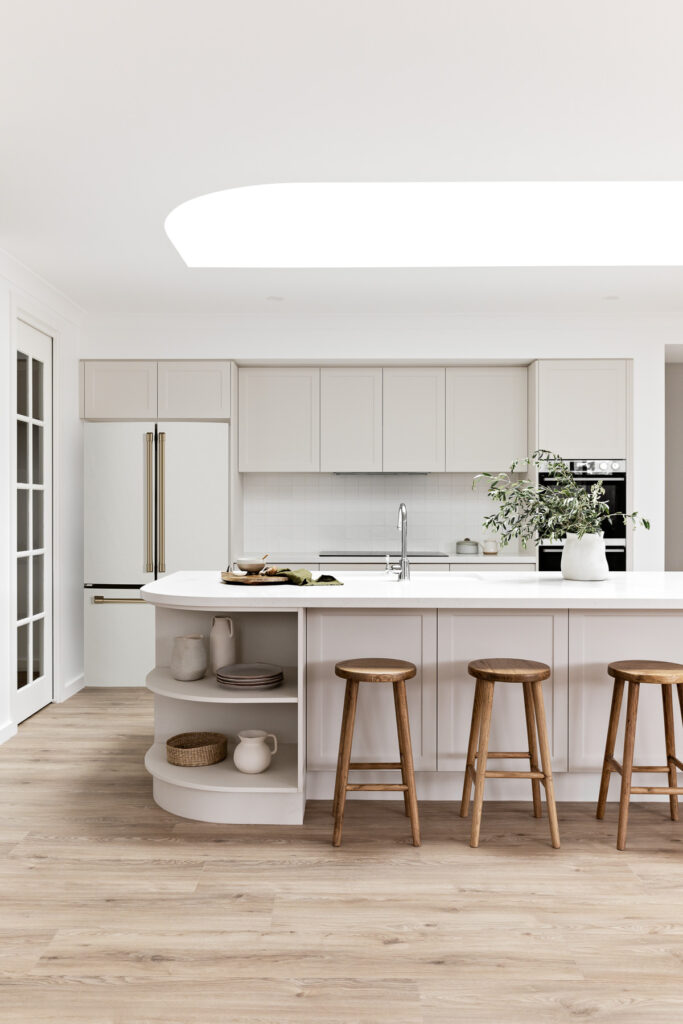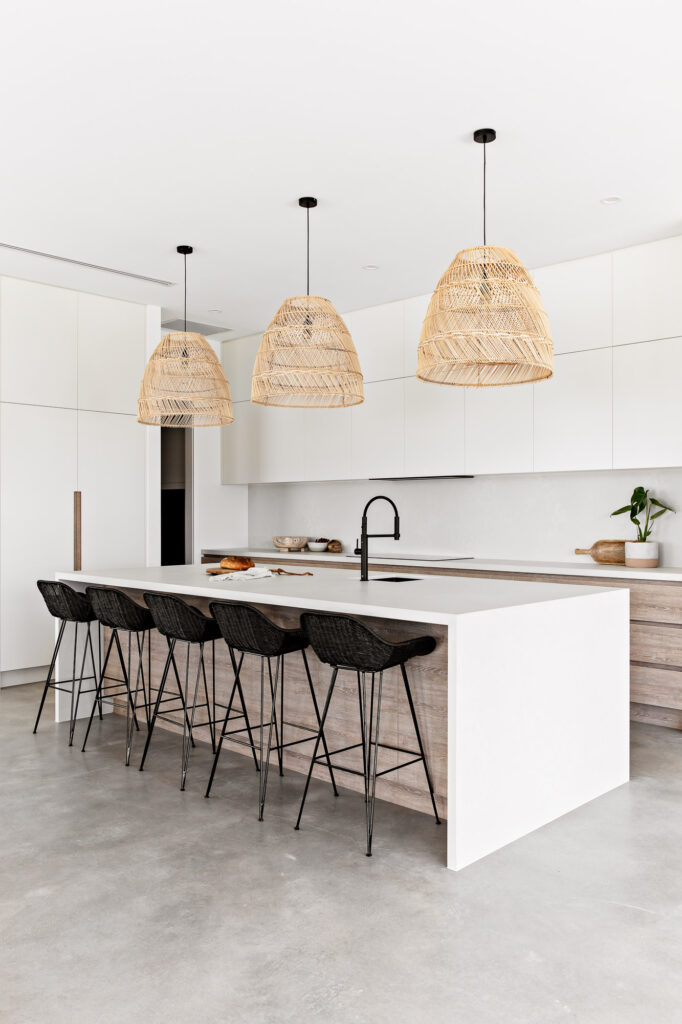 GET A KICK! OUT OF GETTING IT RIGHT THE FIRST TIME

The standard kickboard height is 150mm.
The height range can be between 100mm to 200mm. The kickboard depth from the front of the floor cabinet carcass excluding the door is 50mm. 
… And there you have it! With the 5 key kitchen measurements under your belt, we hope you're feeling inspired to whip out the calculator and measuring tape and start planning.
O & O THOUGHT OF THE DAY – Pretty starts with practical.
Once you've nailed the nitty-gritty of your kitchen floor plan, that's when you can start whipping up your dream kitchen with the right parameters in place.
CURIOUS TO SEE HOW IT ALL COMES TOGETHER?