Your laundry is one of the most functional spaces in your home – a spot for tackling your to-do list with as little stress as possible. When function matters this much, we suggest using laundry measurements that set you up for success. Here are 5 laundry measurements you must know, so you can maximise your space and create a laundry that just works.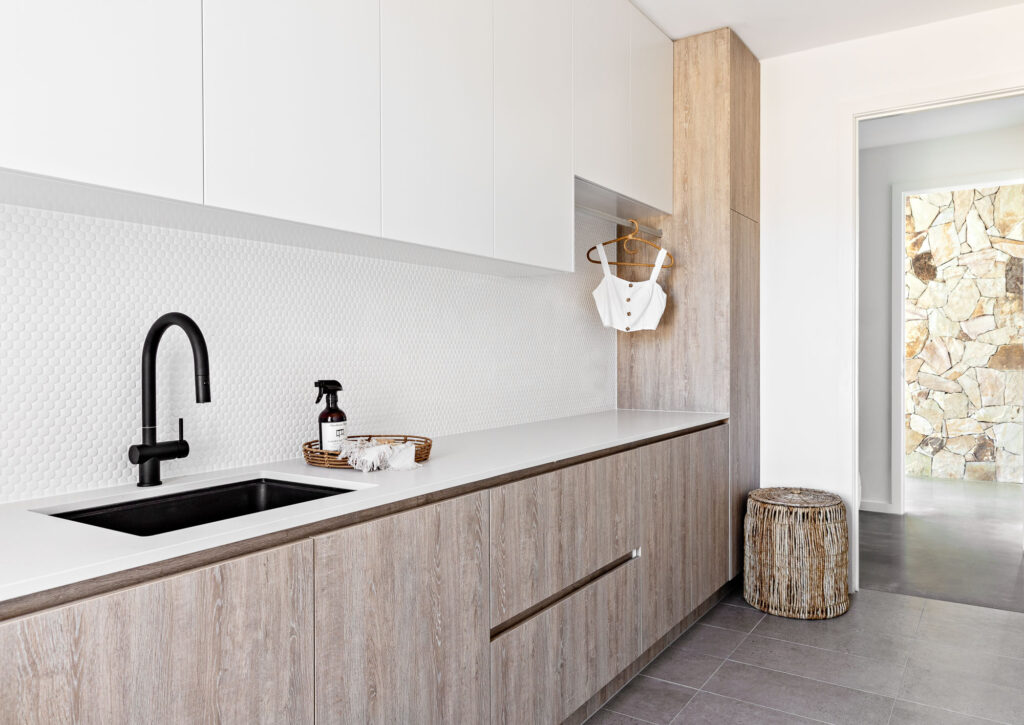 1. BENCH TOP HEIGHT & DEPTH
WORKABLE WORK SPACE
The height and depth of your bench top are two measurements that go hand in hand. We recommend 600 millimetres for your laundry bench depth. 900 millimetres, including the bench top, is an appropriate bench height, but this can be changed to suit your personal preference. If you are drawing your own plans, remember to allow 100 millimetres for the kickboards. 
NOT TO BE FORGOTTEN!
It's a common mistake: making the broom cupboard too small. It's easy to disregard its importance, but a too-tight fit will have you frustrated every time – and trust us, it takes a surprisingly short amount of time to fill a broom cupboard.  To ensure you maximise your broom cupboard for best functionality, consider what you will store: vacuum? mop? bucket?
We recommend a minimum width of 500 millimetres. If your laundry layout allows for two broom cupboards, you could decrease this width slightly for each.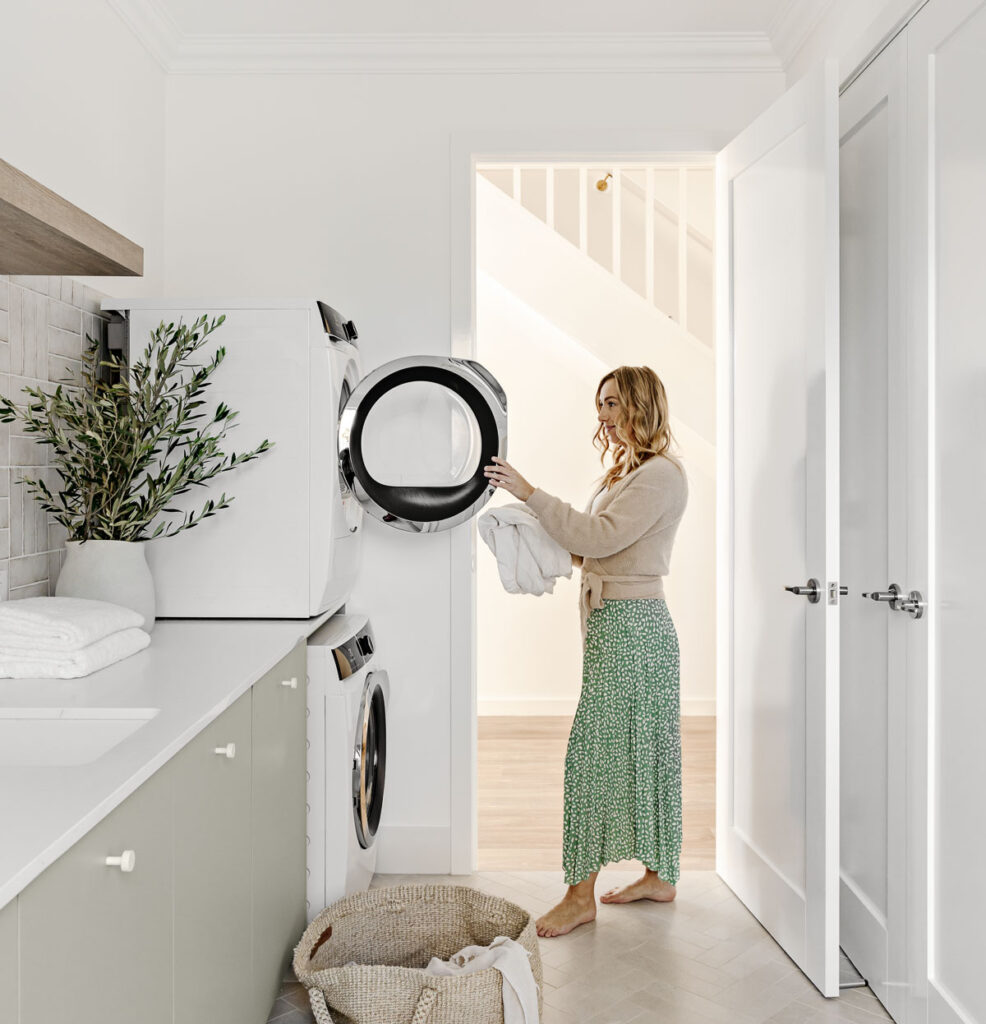 COMBINATIONS AND CABINETRY
The combinations are endless when it comes to the placement and positioning of your appliances. Here are the most common configurations for washing machines and dryers:
– Place both the washing machine and dryer under the bench; front loader only
 – Stack the washer and dryer, creating a combo; front loader only
 – Wall mount the dryer and place the washer underneath
 – Install the washer and dryer both raised; front loader only
Consider your top choice for this set up before you design your cabinetry. Remember, you must have your washing machine near your sink for plumbing purposes. Below are the standard measurements that each appliance will require:
Standard spaces for front loading washing machines / dryers:
 – Width: 800mm (average machine is 600-700mm wide)
 – Depth: 800mm (average machine is 600-700mm deep)
 – Height: Average machine is 800mm to 900mm tall
Standard space for top loading washing machines:
 – Width: 800mm (average machine is 500mm to 700mm wide)
 – Depth: 800mm (average machine is 500mm to 700mm deep)
 – Height: Average machine is 800mm to 1100mm tall
HOT TIP
When it comes to your laundry, a bigger sink is not always better. Make sure you still have plenty of workable bench space, which will maximise the functionality of your space more than a large sink will.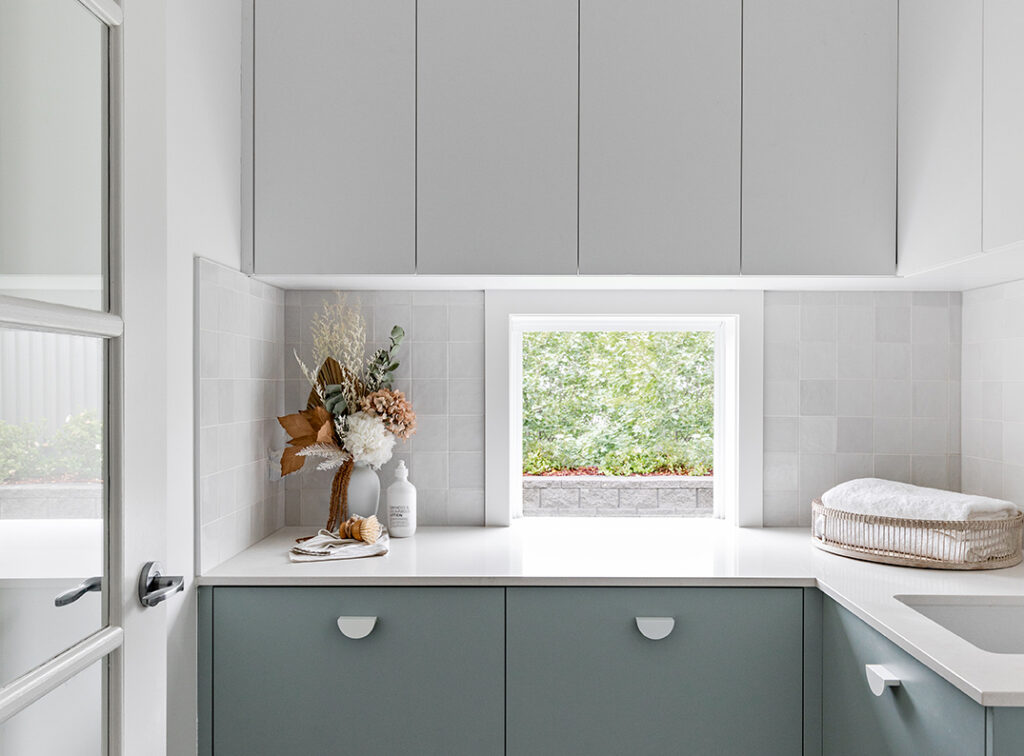 HOW HIGH?
Ensure a minimum height from the benchtop to the overhead cupboards of at least 600 millimetres. If you would like to include a hanging rail, make sure you have 800 millimetres of space  to allow enough room to hang clothes. The standard width of overhead cabinetry is 300 millimetres  – so you don't knock your head on it!
COMFORTABLE CLEARANCE FOR A WELL-DESIGNED SPACE
It's most fun to fill your space with appliances, bench space, and time savers, but don't forget about the importance of clearance. This is the space you need around your cabinetry, appliances and sink for convenience and safety. 1200 millimetres is the minimum amount of clearance, but a more ideal amount is 1500 millimetres, if you can manage it.