Life can get busy, chaotic and sometimes a little messy, but that doesn't mean your bedroom has to be as well. If you're tired of coming home to a cluttered and chaotic bedroom and you find it difficult to relax and unwind after a long day at work, you're not alone. Many people struggle to create a peaceful and restful environment in their master bedroom. But the good news is, it doesn't have to be that way. We are here to help, with a few clever design ideas, you can transform your bedroom into a minimalist retreat that will help you unwind, switch off, and drift off into a peaceful (uninterrupted) night's sleep. 
Isn't that the dream for every mumma with young kids….….a good night sleep = bliss = happy mum. 
We believe "Less is more" and that a clutter-free environment is the key to creating a calm master bedroom retreat that will help you get more sleep. Here are our top 5 minimalist master bedroom designs to help you get started: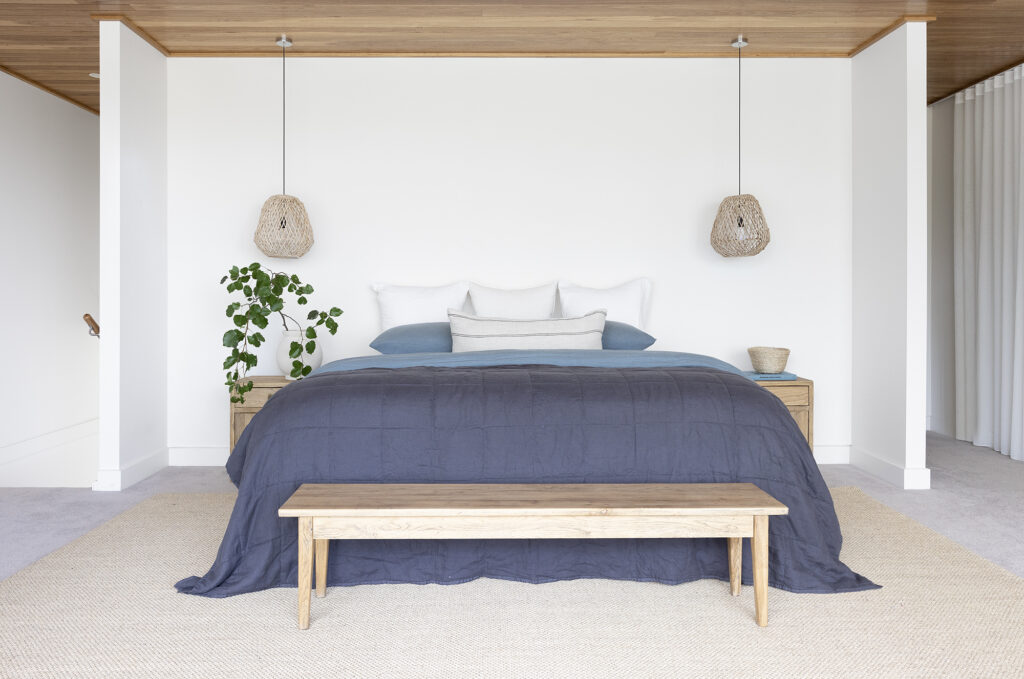 IT'S ALL ABOUT THE TEXTURE
Adding a rug to your master bedroom is a super simple way to create a sense of coziness and comfort. Rugs are a great way to inject warmth and texture in your master bedroom too, see how Heather used the Sandstone Sisal Rug to do just that in her recent master bedroom refresh. Even better, the rug was hand made by the clever team at Natural Rugs Australia.
Lots of small items in styling, artwork and even cushions can look busy, cluttered and on a day to day basis can create more work for you to keep the room looking tidy. Whereas a rug is one large minimal item that has maximum impact, helping induce a feeling of relaxation.   
FOR ROMANCE OR READING
The right lighting can make all the difference in creating a relaxing atmosphere in your master bedroom. We recommend using soft, warm lighting like table lamps or pendant lights. This type of lighting not only creates a calming ambiance but also offers a practical solution for bedtime reading. In fact, studies have shown that reading before bed can help you fall asleep faster and sleep better throughout the night. Sounds good right?
LIKE SLEEPING ON A CLOUD
Investing in quality linen sheets is a must for any minimalist master bedroom. Trust us you don't know how good they are until you try them!! Not only do they add a touch of luxury and comfort to your bed, but they also bring texture and depth to the room. Mix and match different colors and textures to create a finished look without the need for excessive cushions and decorative pieces. Just like the gorgeous Bluestone sheets and Slate Quilted Bedcover Heather recently used to bring contrast to her Master Bedroom.
HIDE THE CLUTTER
Keeping your bedroom tidy and clutter-free is essential for creating a relaxing environment. Having bedside tables with drawers or shelves is a great way to keep books, reading glasses, and other bedtime essentials close at hand while keeping them out of sight. This way, you can easily switch off and unwind without any visual distractions. Another bonus is when you wake up the following morning feeling fresh after a wonderful nights sleep you can begin your day feeling calm and in control in your tidy clutter free bedroom #winwin
A COMFORTABLE NIGHT'S SLEEP
Living in Australia means that hot summer nights can make it difficult to get a comfortable night's sleep. Adding a ceiling fan to your master bedroom can help to circulate cool air and create a comfortable sleeping environment. With so many beautiful designs on the market, a ceiling fan can also be a stylish and practical feature in your minimalist master bedroom design. Bonus – they are much cheaper to run per hour than air conditioning.
Have you seen our recent tour of Heather's Dream Home 4? 
Catch up now if you missed it, you'll get to see more of her gorgeous master bedroom.