Your pantry layout is versatile and endlessly customisable, so it's important to choose a design that works for your household. A butler's pantry is like a mini kitchen, offering ample bench space, powerpoints, and oftentimes a sink. A walk-in pantry is designed to act as a large storage area. The size of your pantry depends on your space and budget, and it is essential to include functions that will be useful for your family, not just design features you like. We've listed five of our favourite pantry layout ideas, each inspired by the sweet treats that are soon to be stocked up!
'FRUIT FLAN' PANTRY LAYOUT
FANCY MEETS PRACTICAL
Our 'Fruit Flan' pantry is, like its namesake, decorated oh-so-beautifully – and it still tastes amazing on the inside. This pantry is designed to look extra fancy while still being super practical.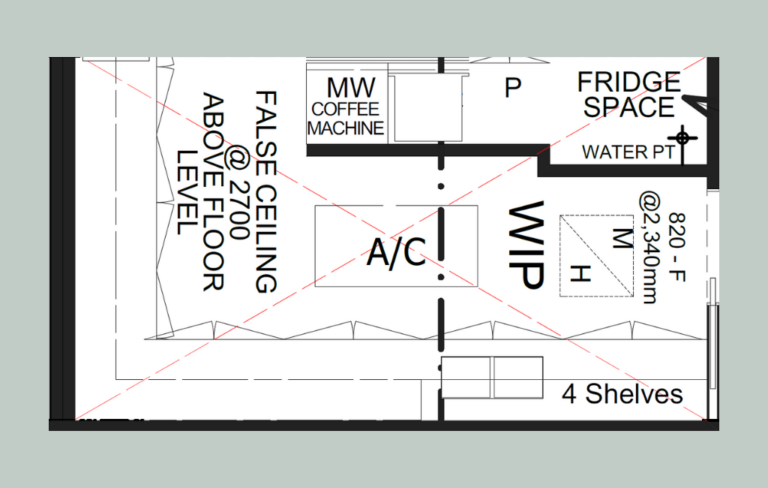 – The double sink is perfect for items that need to be hand washed or can't go in the dishwasher. 
– Door access from the alfresco area makes it easy to tidy up after outdoor entertaining.
– The food storage looks great, but also makes finding things quick and easy.
– It includes ample bench space for your kettle, toaster and Magic Bullet.
– This space doubles as a drop zone for the kid's school bags, so they can easily unpack lunches and refill water bottles.
2. 'CARAMEL SLICE' PANTRY LAYOUT
SO MUCH GOODNESS!
Just like a caramel slice, this pantry features layers and layers of goodness – and with just a glance, you know exactly how decadent it's going to be!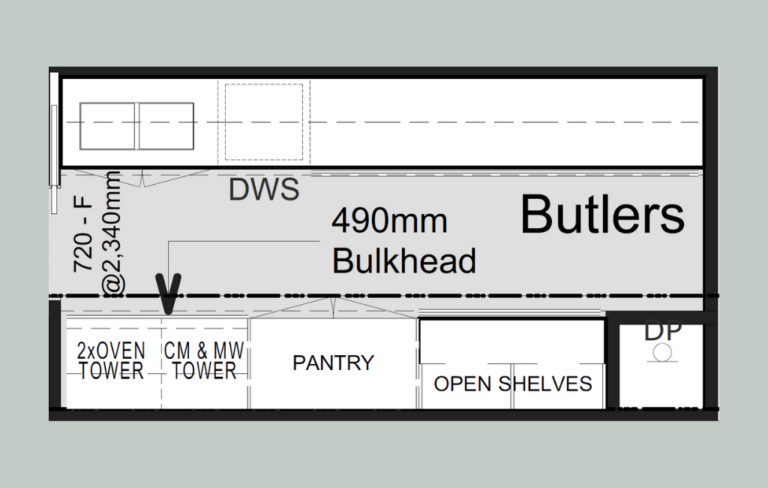 – This butler's pantry features a double oven close to the kitchen.
 – It has a double sink with a pull down spray tap.
– There is a second dishwasher for easy post-entertaining clean up.
 – There is plenty of bench space for a coffee machine, toaster, kettle and microwave. 
3. 'THE DONUT' PANTRY LAYOUT
THE SWEETEST COMBINATION
Timeless, classic, not too fancy… but it always hits the sweet spot. This pantry layout is just like a donut with its perfect combination of everything you need: drawers, shelves, and lots of bench space.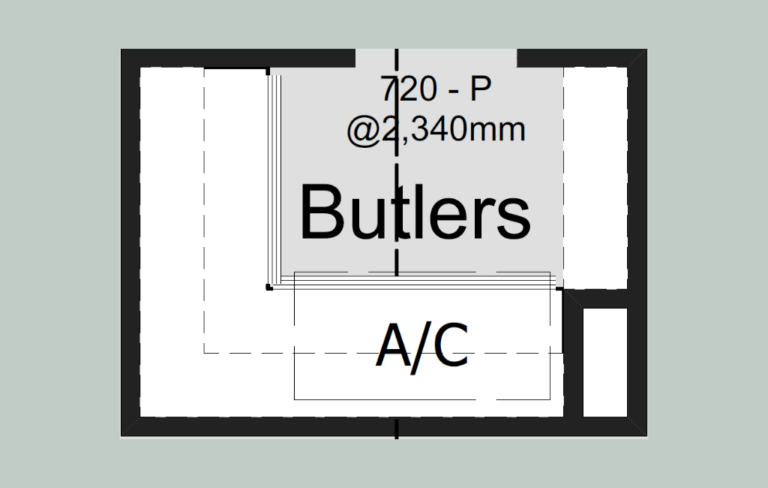 – This pantry features open shelves above the bench for convenience, plus a full wall of shelving for food storage neatly tucked away where it can't be seen. Perfect combo!
– There is ample bench space for a toaster and kettle. We chose more bench space instead of a second sink for this build, because bench space was a priority based on the overall size of the kitchen.
 – No sink is needed, as this pantry is nice and close to the main kitchen sink
– There are storage drawers right down the bottom for extra space.
 – This pantry includes a void in the corner to allow for the drawers to open. While this does mean we lost space, we gained by having drawers that are easier to open rather than cupboards – which make it hard to bend down and reach things.
4. 'GOURMET COOKIE' PANTRY LAYOUT
SIMPLICITY AT ITS BEST
The best basics can be done in so many different ways: chocolate, nuts or fruit for your cookie, and benches, shelves and fun pops of colour for your butler's pantry.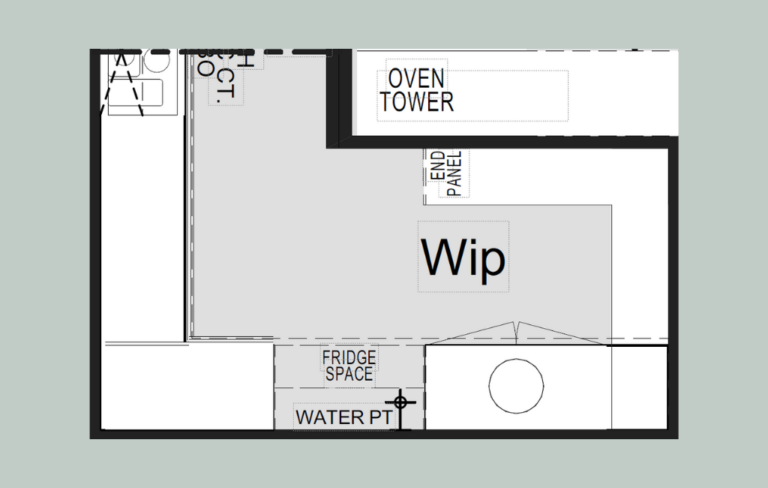 – The small sink and tap in this pantry are perfect for filling pots and drink bottles.
– It's located close to the fridge, as well as the main cooktop and meal prep areas.
 – It features large open shelves that can be used for food storage, or for storing away large, bulky cooking appliances that don't get used all the time, like the slow cooker.
 – The cabinetry colour adds flavour and personality, which can be a great addition when you're hesitant to use colour in the main kitchen 
5. 'THE CROISSANT' PANTRY LAYOUT
A BELOVED CLASSIC FOR GOOD REASON!
This classic storage pantry has lots of uses, any time of day – and just like a croissant, you can fill or top it with all your favourite things. This pantry style gives you flexibility in its function and offers a luxe feel for less.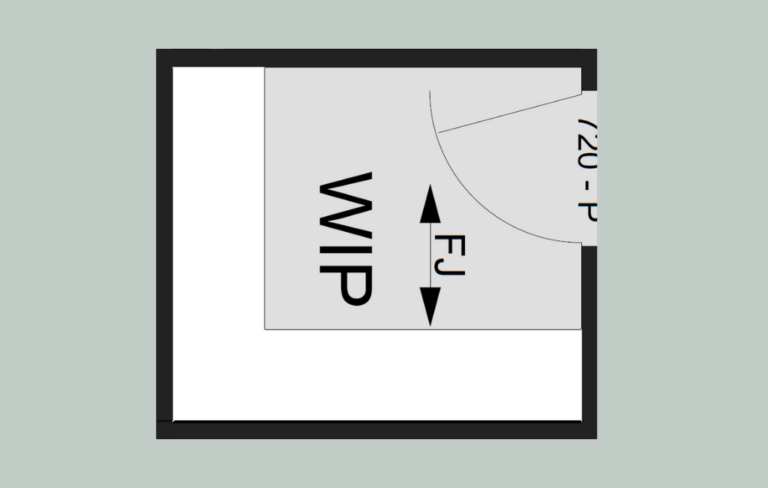 – Basic shelving keeps this storage pantry close to budget, while massively upgrading the functionality of your space.
– It's close to the main kitchen and features a sleek door for hiding the mess.
 – This pantry includes large shelves for storing appliances that are not used every day, like your sandwich press.
– Different shelving heights offer flexibility for your storage needs.
PANTRY LAYOUT IDEAS ON YOU TUBE
WANT TO SEE THESE PANTRY LAYOUT IDEAS IN ACTION? 
SUBSCRIBE TO OUR YOUTUBE CHANNEL FOR OUR INSIDER DESIGN TIPS!