By Sarah
Do you love a grand and generous master suite married with a tranquil ensuite?
One that takes you on an idyllic getaway after a hectic day at work, a sanctuary to unwind and be pampered in? We do too!!!
That's exactly how we would describe the master suite in Dream Home five: Modern Aussie Resort. With its relaxed day spa vibes, calming neutrals and killer walk-in robe, what's not to love. Come take a walk inside our very best master suite design and floor plans.
Well don't we have a treat for you! We are going to share our tips on everything you need to know to create an ensuite with all the day spa vibes, including the measurements and the floor plan from our very own master suite. #yourewelcome
Have you ever wondered what the size of our master suite room is, how long the vanities, how big the shower is or what height the ceiling is? Read on to have all your burning questions answered and more. We're sharing with you all the key ingredients to make the very best ensuite, master bedroom and walk-in-robe combo including our very own master suite floor plans.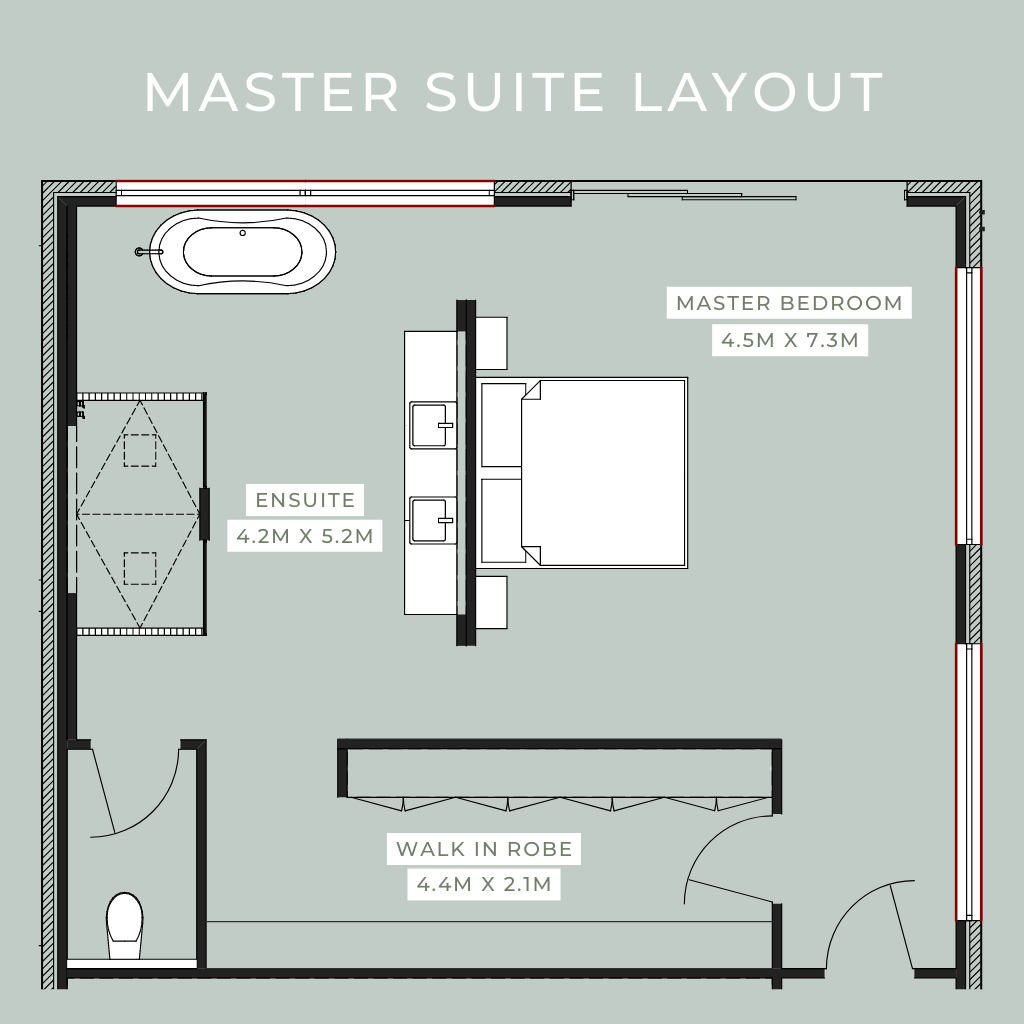 When it comes to the word day spa, we conjure up so many dreamy thoughts. Think earthy, organic, natural materials, textures and finishes…they are a key part to the day spa feel. Here's how we nailed that brief in our Dream Home 5 ensuite. We used the same-coloured tiles through the whole bathroom and floor to ceiling tiling in large format tiles to the walls and floor. We didn't stop there. We turned the open walk-through shower wall into a beautiful statement by tiling one side with the most gorgeous, honed penny round tile. Do you love it as much as we do?
WALL & FLOOR TILES – Color Tile Arkistar Anthracite Internal 900 x 900
PENNY ROUNDS – Color Tile Penny Round Cinder Grey Honed
HOT TIP
Using the same or similar toned tiles in different shapes and sizes is a great way to keep a bathroom minimal but not boring.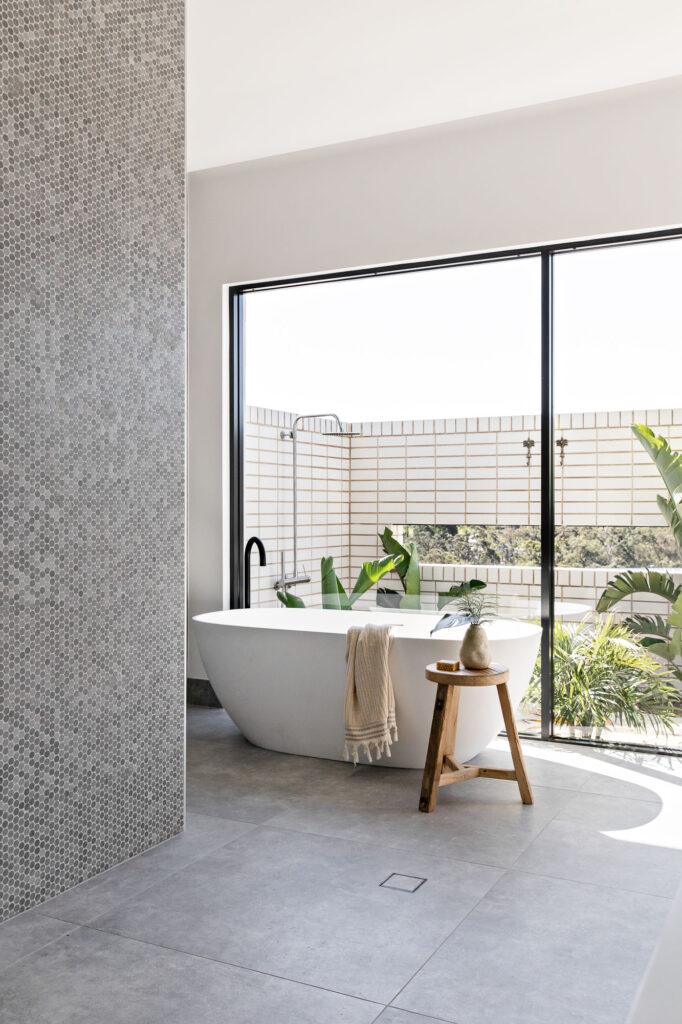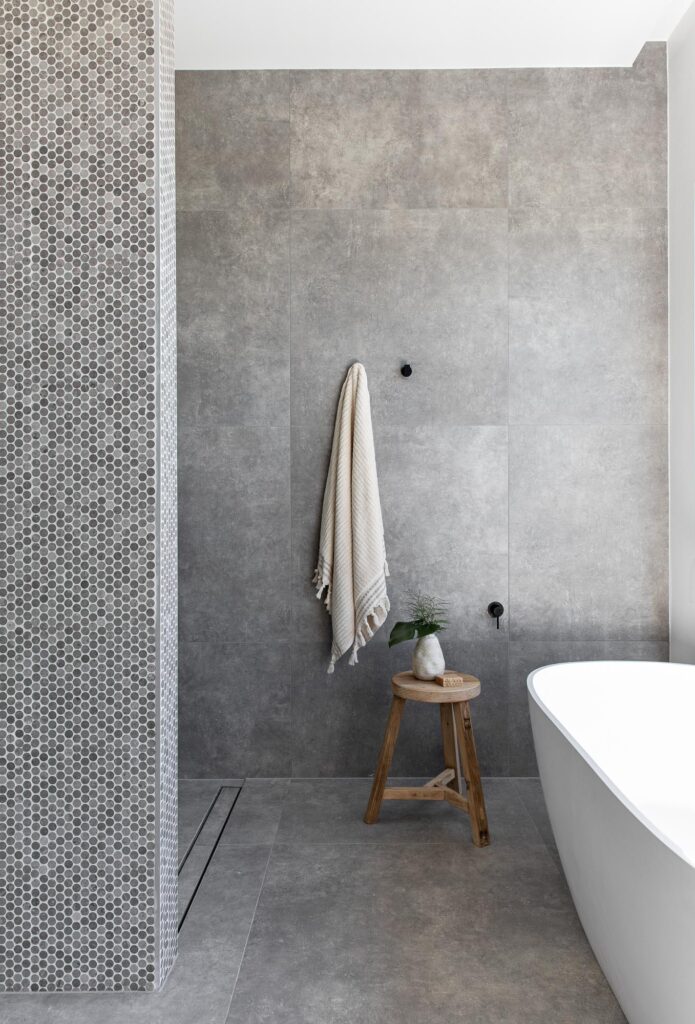 Let the bath do the talking. With an open layout ensuite, we made our freestanding bath the main feature and hero of the space. The whole ensuite was designed around the large picture window encasing the lush outdoor garden oasis. By strategically positioning this grant tub in front of the glass, you get all the feels of it being outdoors but with the convenience of it being indoors of course. A truly magical place to relax and unwind, right?
P.S The home sits high on a hill so no one can peek inside.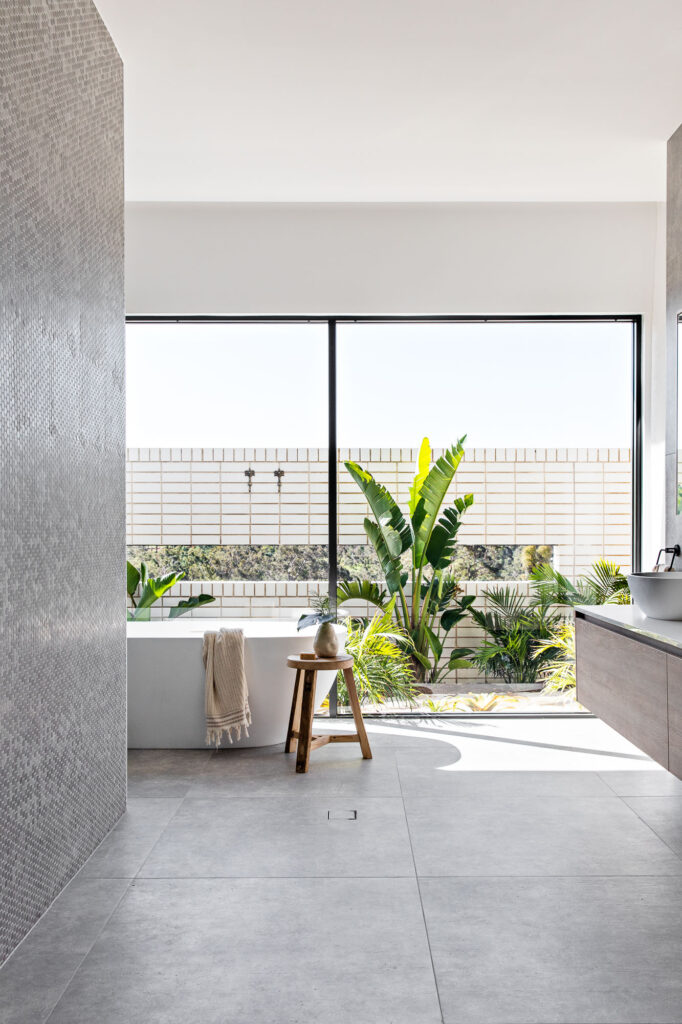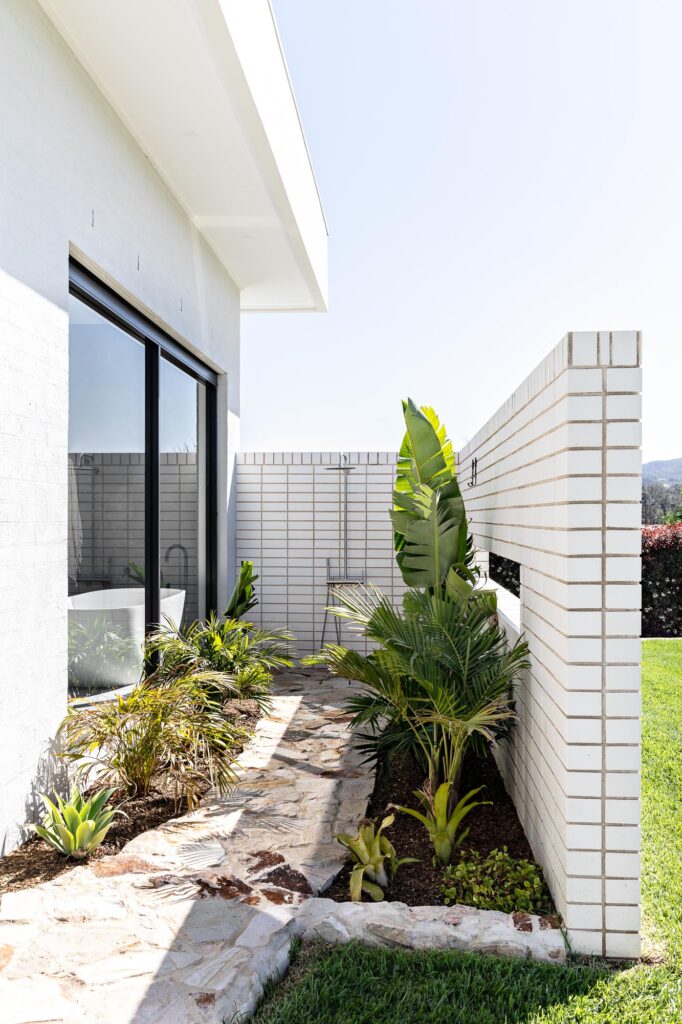 Ensuites are filled with lots of cold hard surfaces. We knew we were going to need to add some depth, interest and warmth to this space. So…how did we achieve that? We selected a timber vanity, some soft artisan Turkish woven towels from Nazire, and rather than just adding in a potted plant or freshly cut greenery, we went next level with the full outdoor garden. We didn't stop there. We even added a shower to the outdoor space too. Yes, you heard right! With access from the pool, it provides the perfect after swim rinse off.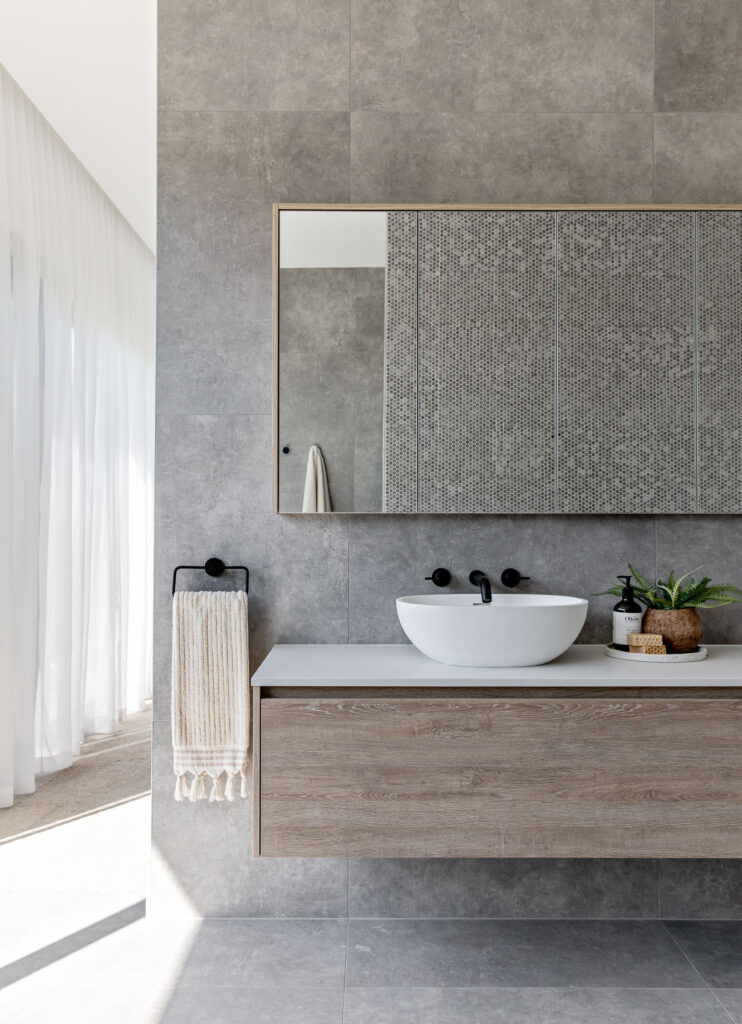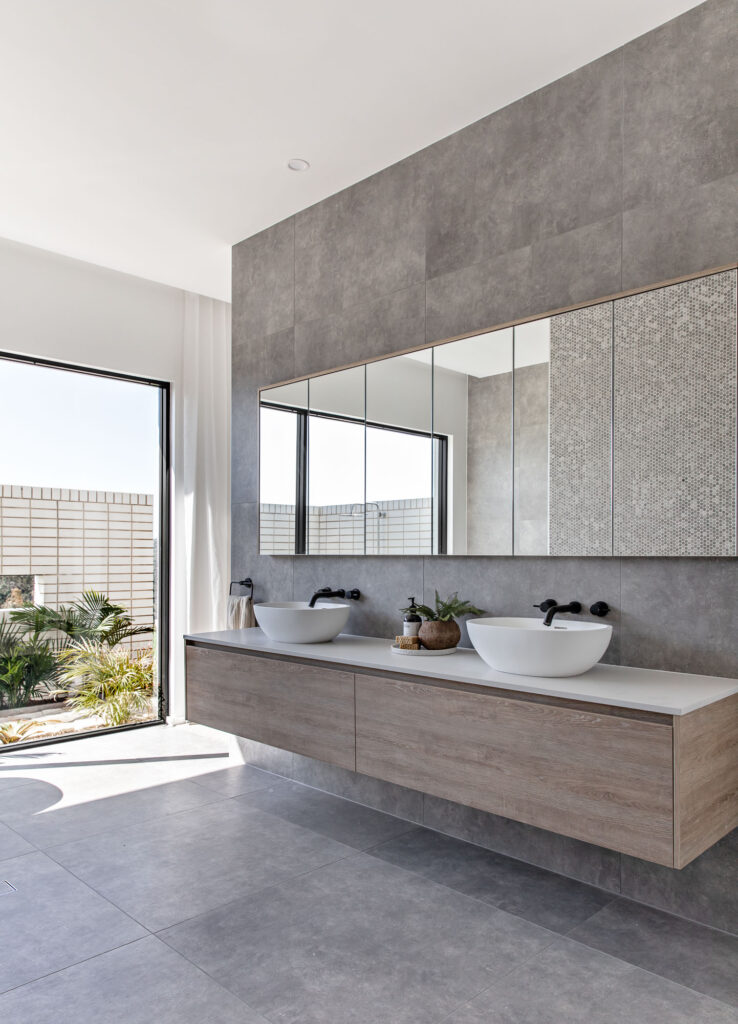 Simple, uncluttered and minimal are must-have when it comes to achieving that day spa vibe. A quick and easy way to achieve that is….storage. As you know, we are big fans of storage. It is an important feature in any room and in this space we opted for wall mounted, floating vanities which not only created a spacious feel but also make cleaning super simple. #tick Finally, we included recessed mirrored cabinets for that oh so convenient face height storage….. we know Shaynna Blaze will love us for this one!
When it comes to showers, the bigger the better. Double showers with twin showerheads give that day spa aesthetic and we chose two rain shower heads in a timeless matte black finish. Hands up if you have total bathroom envy!
Lots of light, preferably natural light is important when designing a bathroom. We added in a skylight above the shower to help bring light into any dark corners of the room.
Now for the part you've all been waiting for…our master bedroom suite floor plan. Grab your pen and paper and snag all our dreamy layout ideas. Here's how we did it…
We have made the ensuite feel like an extension of the bedroom by opening up the space with doorless frames. Privacy is not compromised as we have the toilet enclosed with a door and the showers are hidden behind the peen round tiled wall.
The walk-in robe has two entry points, one with a door within the master bedroom and the other from within the ensuite. The second door wasn't always in the design and was added later and are we glad??? 100% we are. Believe it or not, we use the added second door in the master bedroom more than the original on the design. #whoknew
Making changes that enhance everyday ease of living are always a good decision and often the ones you will never regret!!
What could you change in your home today to make life that little bit easier…
CHECK OUT THIS MASTER SUITE IN ALL HER GLORY
WATCH BELOW