If building a new home is on your horizon then this is the guide you've been waiting for! We're here to simplify the journey, offering you an easily digestible roadmap for what to expect during each stage of your new home build. Embarking on the journey of building a new home can be incredibly exciting. However, we've heard countless stories from people who feel left in the dark, unsure of what comes next. That's where our expertise comes in. With 20 new builds under our belt, these stages are basically second nature to us. So let's navigate this journey together, step by step.
LAYING THE FOUNDATION
Building your dream home begins with precision and purpose. The very first step of your building journey involves a skilled surveyor who will peg out your house to match your meticulously crafted plans. Their mission is to ensure your house is built precisely where it is meant to on your parcel of land. It's all about nailing those perfect set-backs from the boundaries. 
The process continues with a cast of impressive machinery which works to excavate the land. The objective is to transform your block of land into a flat canvas, primed for the masterpiece to come. Then, the spotlight shifts to the structurally important aspects – piering, formwork, edge boards, internal drainage, pods, and steel fixing. Once that is complete, we move onto the last (and most exciting) part of step one – pouring the concrete slab. This is where you will start to see your vision come to life for the very first time. 
And there you have it. Stage 1? Complete!
WHERE DREAMS MATERIALISE
Stage 2 is where your dream home truly starts to emerge from the blueprint and become a tangible reality. As you drive past your land for a little sneak-peak, you will notice frames, structural steel and windows making their grand entrance. You will also see plumbers completing the external drainage.
Before you can say "home sweet home", those windows, frames and structural steel will be installed, and you finally have the bones of your new home. The rough-in stage is the heartbeat of functionality, ensuring your home runs like a well-oiled machine.
BUILDING CHARACTER
Stage 3 is all about bricklaying. Generally, bricks are stacked up to 22 courses before scaffolding takes its place. Once the scaffold is installed, your build will take one of two pathways – this is dependent on the availability of trades. Option one is to continue on with bricklaying, bringing your exterior to life, brick by brick. Alternatively, the installation of your fascia and gutter will begin, along with your home's protective roof. 
But stage 3 isn't just about bricks and roofs. It also features cladding, eaves, downpipes, the installation of solar panels and even the first strokes of paint! 
Take a moment to savour this moment – you're officially at the halfway mark of your new home building journey!
REACHING FOR THE SKY
f you're building a double story home, the scaffold will need to be adjusted to make it easier for the roofers to do their job. That begins with the installation of the fascia and gutter, laying the foundation for your roof's structure. 
Next up, roofing sheets or tiles take their place, sealing the deal on your home's protective cover. After that is completed, solar panels are installed, capturing the sun's energy and infusing your home with sustainability.  The scaffold will be adjusted once more to allow for the cladding and eaves to be installed on the first floor. Lastly, downpipes are installed, ensuring proper drainage for the future. 
Once all of this is complete, the scaffold is dropped and removed, revealing your home's exterior in all its glory. It is a pivotal moment where your vision is no longer confined to plans on paper – it's standing tall, right before your eyes!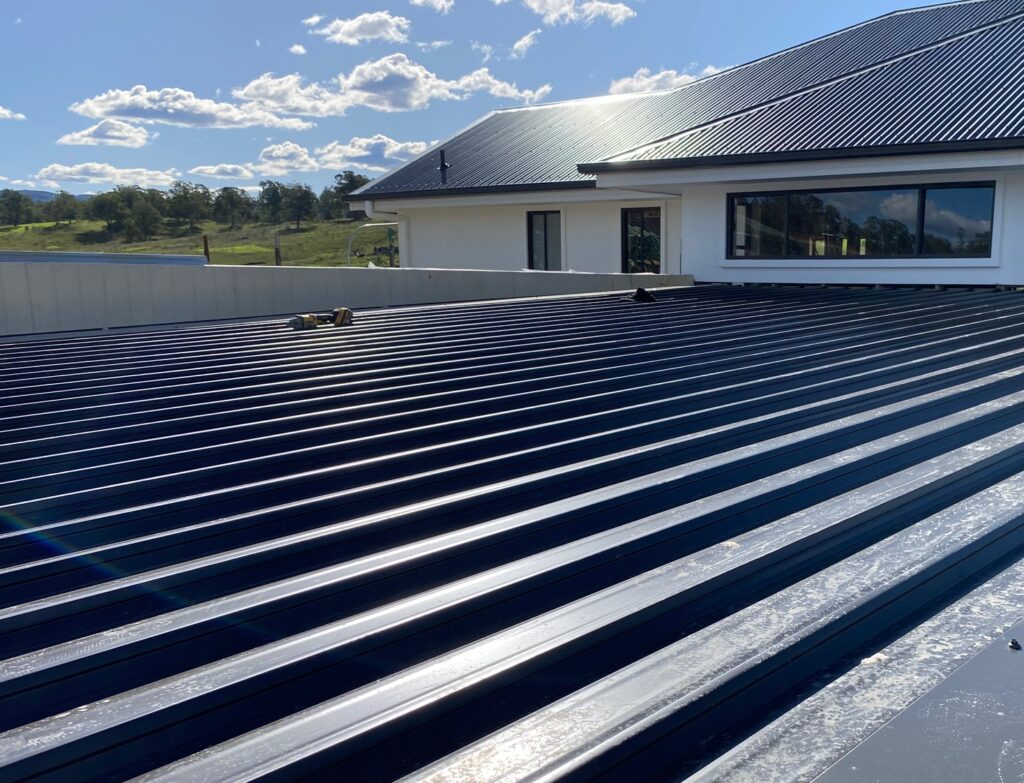 THE UNSUNG HERO
Okay we admit it. Stage 5 might not be the most thrilling part of the journey. You may even find it a little boring. But here's a truth bomb: it's absolutely essential. This is where we scrutinise every nook and cranny to ensure your electrical, air conditioning, data, and plumbing are in perfect harmony. Why, you ask? Because overlooking these details could detonate into a budget blowout later. Imagine the hassle and cost of bringing back plumbers, electricians, plasterers, and painters. Not to mention the headaches for your builder which could slow down the entire project. 
If you have an awesome builder like Better Built Homes, you should be able to do a walkthrough prior to the linings (plasterboard) being installed. The supervisor collaborates with you onsite to confirm all the electrical and plumbing provisions are in the right places. It's your last opportunity to make any changes, although we do recommend nailing these details during the design stage to avoid any pesky variation costs. 
 At this stage your frames will be inspected by either council or a private certifier. Then it's time for insulation, plasterboard linings and cornice. A quick sand by the plasterers will have these prepped and ready for for painting #yay
THE TURNAROUND
Turn that frown upside down. Stage 6 is where the action picks up some speed! Buckle up; there's a whirlwind of progress coming your way. This stage is like a burst of sunshine after a rainy day. Here's a sneak peek at what's in store:
– Fix out – architraves, doors, skirting & garage door install
– First coat of paint #happydays
– Wet area waterproofing (including inspections) and tiling. 
– Kitchen and vanity install. 
– Stone benchtop install. 
– Electrical, air con, data & plumbing fit offs. 
– Plasterboard markup and match – addressing any of minor damage from the above steps 
– Main floor install 
– First house clean 
– Final coats of paints 
– Internal silicone
Can you feel the excitement building? You're inching closer to the finish line – your dream home is almost complete!
THE HOME STRETCH
You are just moments away from grasping the keys to your new home. The finish line is in sight, but there are still a few important details to attend to:
Inspections – whether it's the vigilant eyes of council or a private certifier, these checks ensure everything aligns with the highest standards of construction. 
Driveway – If your package includes a driveway, this is the moment it gets its finishing touches. 
Client walkthrough – You'll need to sign off on this to give your bank the green light to release your final payment.
Last but certainly not least, the final pre-handover maintenance, ensuring everything is in perfect order.  
 And that's it – the 7 stages of building a new home. From a dream on paper to a tangible reality. Those keys will unlock the door to a lifetime of memories. 
DREAM HOME 8 TOUR IS NOW LIVE