We love the freedom and limitless creativity of a new build. Give us a patch of soil and a permit to go wild with imagination any day.

But sometimes, a modern home – with all its clean lines and shiny surfaces – can be lacking in the charm department. We love building a new house with old charm by incorporating a touch of character into our fixtures and finishes.

Keep reading to discover our best kept secrets.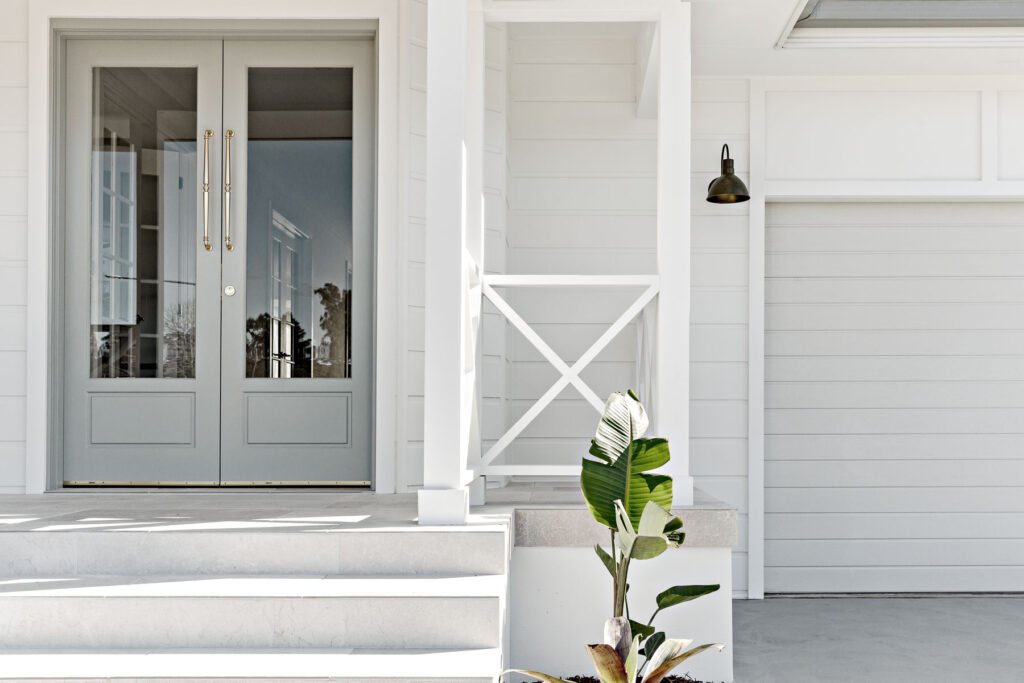 Dream Home 6 (The Cosy Country Cottage) and Dream Home 7 (The Coastal Farmhouse) were both new designs, with new builds, on new blocks.

Set on a 450sqm and 890sqm block respectively, each project exudes its own personality. Sure, they're standard suburban homes – but they're anything but boring.
We infused old charm into each new house by focusing on these elements:

TURN ON THE TRADITIONAL FEELING

Tapware is like the jewellery of a bathroom. It's usually the first thing you notice and can make a great statement. By choosing classic tapware in traditional shapes and finishes, you're able to emulate the look of a heritage home. We used a more traditional style in chrome at Dream Home 6, and a more modern shape in Dream Home 7 but in a classic gold finish.
2. VJ GROOVE & WAINSCOTTING
A VARIETY OF STYLISH & AFFORDABLE PERIOD PROFILES

In Dream Home 6 we used dado rail in the Master bedroom. We continued this trim on the skirting and architrave for a modern finish but using a different paint colour above and below the dado rail for traditional charm. In the main bathroom we used affordable v groove cladding, running it around the top half of the room to create a traditional feel.

For Dream Home 7's Master bedroom, we used the same skirting profile again but this time, we created wainscotting behind the bed and painted it in Taubmans Lazy Days to make it a standout feature. We even went so far as to add more detail in our formal lounge-come-multipurpose room, again using the same profile skirting in a wider profile and adding beading to it for an even more traditional feel. We carried this the whole way around the room.
OPEN UP THE OLD CHARM

Internal doors are an opportunity not to be missed. Hume Doors have a great collection of traditional styles. In Dream Home 6 we chose the HAM5 to create a country cottage feel, and in Dream Home 7 we opted for the slightly more modern HAM1 for a more coastal vibe.

We're also big fans of french doors – they are a great way of transferring natural light between rooms (and they look so chic!)
A TOUCH OF COST EFFECTIVE HERITAGE
The devil is truly in the detail when it comes to door handles and hardware. It's a small part in the grand scheme of things, but you'd be surprised how much it can change the look and feel of your home – without breaking the bank. Classic styles in heritage silhouettes are always available to bring a finishing touch of character to an otherwise modern interior.
BRIGHT IDEAS TO BRING IN MORE CHARACTER 
There are so many period style lighting options available, both in pendant and wall lights. Even if you prefer a more modern interior, using pendant lights in a new build can be an affordable way to bring charm, character and a lived-in feel to your new home. 
JUST IN CASE YOU MISSED IT
CATCH UP ON OUR DREAM HOME 7 SERIES NOW