FROM VISION TO LOCKING IN DESIGN DECISIONS
Whenever a new project comes our way it's a good excuse to try something new and Dream Home 7 is no different. Just so there's no confusion The Coastal Farmhouse is at least 50kms from the nearest beach and it isn't on a farm. #crazyweknow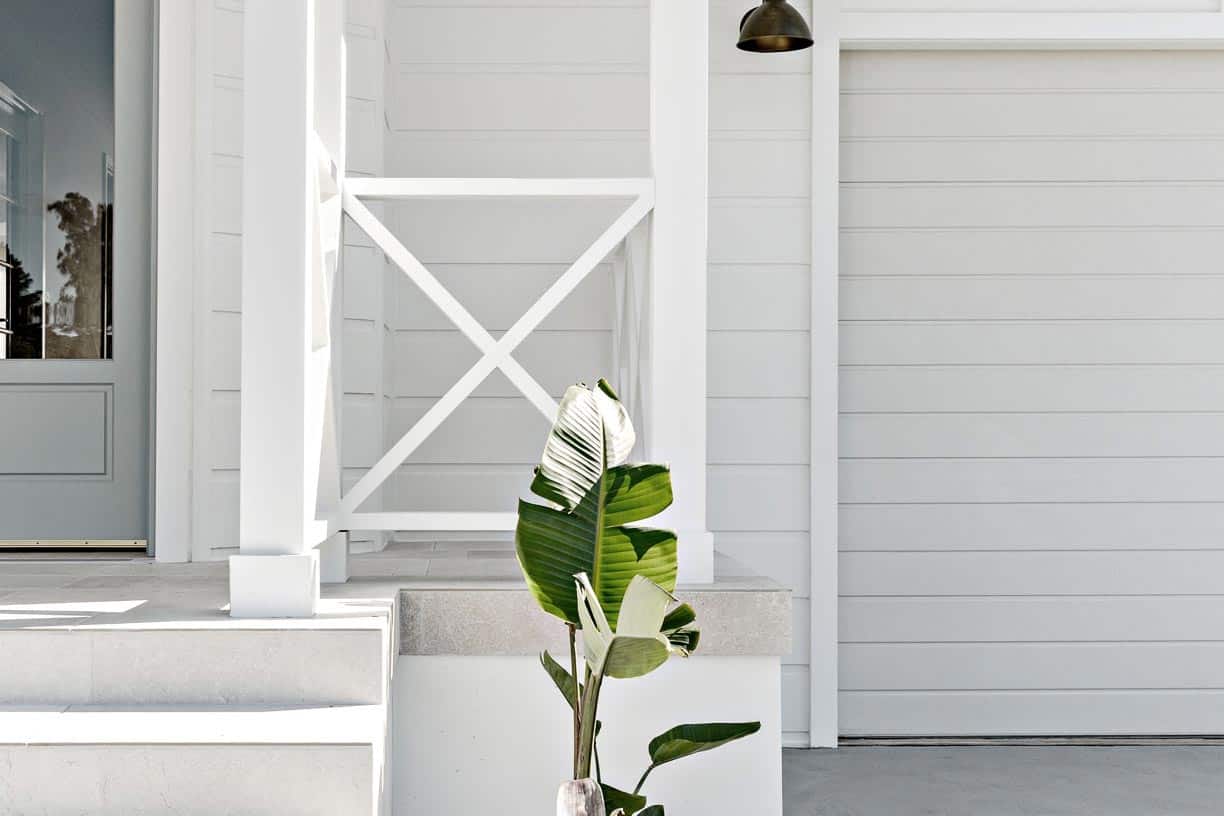 THE FIRST STEPS TO BUILDING A HOUSE
Two words you'll hear us say a lot are "emotional connection", after all we are building to sell, and the aim of the game is to make sure people fall head over heels in love with each home we design and build. Let's rewind 18 months, so you can see just how we ended up with a coastal farmhouse style home.
NEW STYLE
Dream Home 7 is our latest 'build to sell home' which means we get free reign over the design. Now, we could just do a similar style over and over again but where's the fun (or challenge) in that?! We're no one-trick ponies, we get a kick out of trying new styles with every project we take on. And because we're building to sell, we often have to try and play it a little safe but don't worry we still like to push the design boundaries too. That's why we're bringing you yet another new interior design style we know you'll love #keepingthingsfresh

SO WHY THE COASTAL FARMHOUSE THEN?
Because that's exactly where we got our inspo from. We like to take inspiration from more than just what we see on THE GRAM or PINTEREST ….. even hotels like the oh so gorgeous Boat House Hotel Patonga. #eyeswoon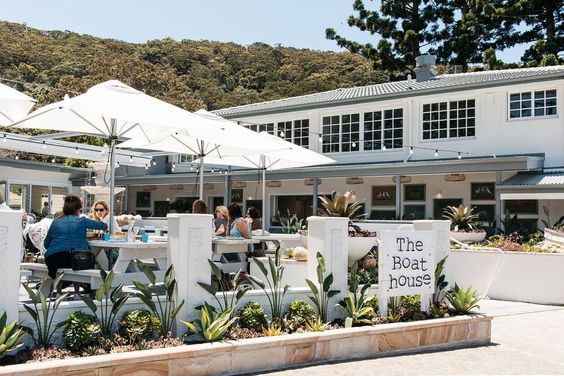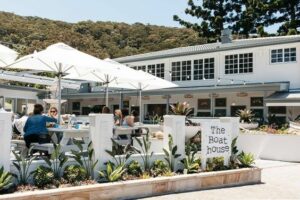 For us the style is influenced by TWO key factors
What we LOVE, because if we LOVE it, chances are someone or hopefully lots of people will LOVE it come Auction day! #thatstheplan
What's popular in our area! Remember: the style that suits our target demographic might not suit yours. That's why we get loads of feedback and advice from our agent Robert Norgate before we even start construction #justtobesafe
Coastal style is oh so popular and tends to be a style that appeals to lots of age groups and demographics. We wanted to mix it up with the farmhouse style, so it feels homely and fits in with its rural surrounds but is oh so modern too. Although it's not on a farm, it's located in a semi-rural suburb on the outskirts of Sydney with plenty of acreage properties nearby.
COASTAL + FARMHOUSE = DREAM HOME 7
So now you know where the inspo comes from, what exactly is Coastal Farmhouse style you ask? #goodquestion
We're mixing classic coastal features like VJ, whites, wood and rattan and mixing it up with farmhouse style warmth, wainscotting and splashes of green to create a homely and inviting Dream Home. It already sounds so calming, doesn't it? Hopefully someone will fall in love with it the second it hits the market. #fingersandtoescrossed
To top off it all off, we're splashing out and putting in a pool! Might seem crazy for a house we're going to sell but it's all part of the package. You'll have to wait for more on this in the series but she's a beauty.
THE VISION BOARD
Here you have it, our home vision board for The Coastal Farmhouse, the place where it all started well over a year ago. #timeflies You've probably heard it said before that a vision board is all about the mood and feeling you want to create in the home. And yes, it's true! We were totally vibing those relaxing coastal feels that convince us we are only moments from the beach couple with the homely farmhouse touches.
Our home design mood board is our first step to building a house. It definitely helps to keep us on track throughout the design selection process, right down to choosing window coverings and styling. We literally spare no detail. BUT in this series, we're going to show you how we take the vision and lock in all of our design decisions.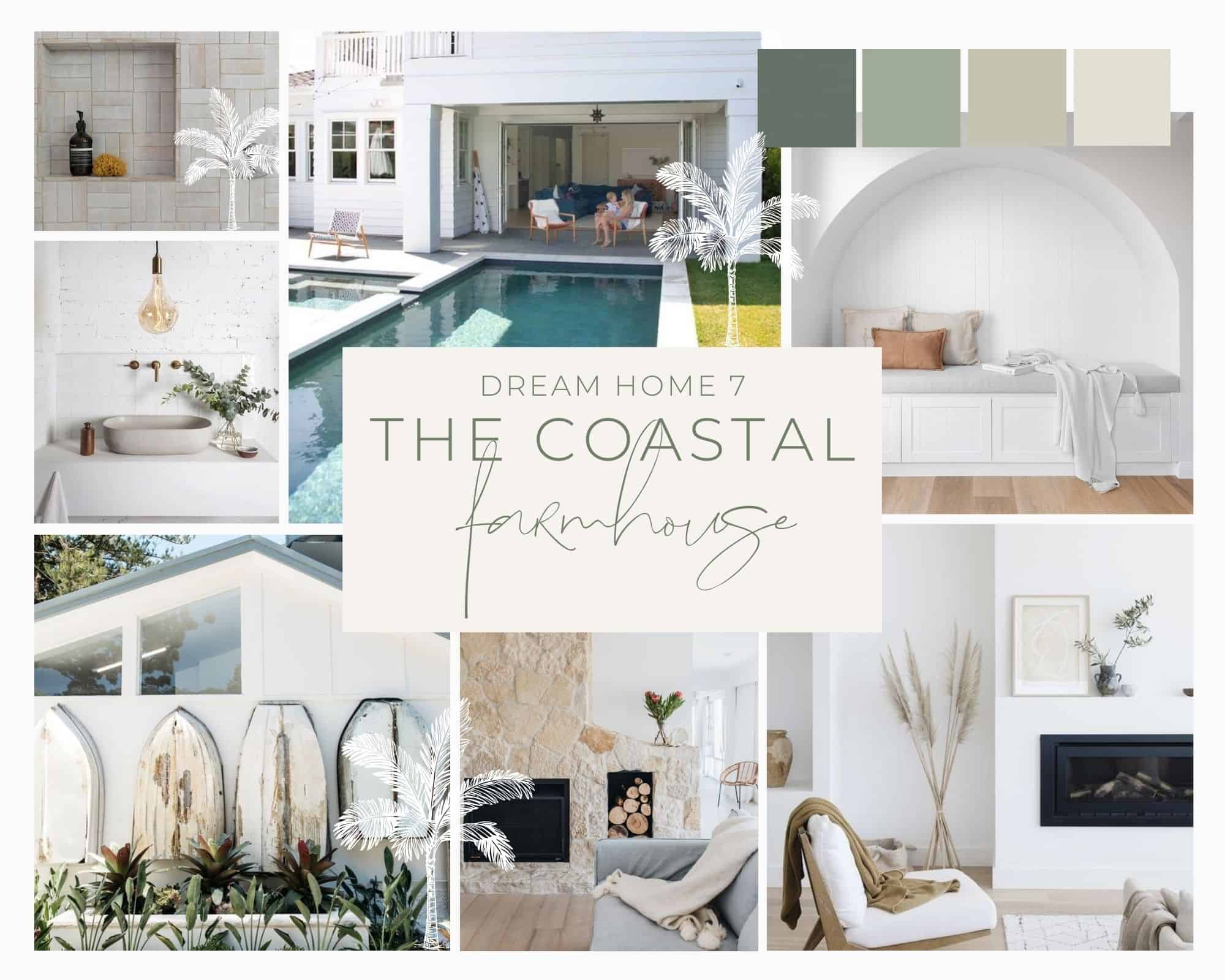 LOCKING IN DESIGN DECISIONS
You see the thing with a home vision board is it can only take you so far. Although we have a clear vision of the style, we want for Dream Home 7 we must put on our sensible hat and consider everyday living for the new owners. Designing a true DREAM HOME means, it must be a dream to live in. For us that means asking ourselves how we would want to live in the home both aesthetically AND practically. We've listed some considerations that'll help you make those all-important design decisions.
Is there plenty of natural light in the main living areas?
How easy will the floors be to clean? And will they scratch easy?
Do the tiles require ridiculous amount of grout?
(because does anyone really like cleaning grout?)
Will you have easy access to everything in the kitchen, bathroom and laundries?
Is there enough well thought out storage to help keep this insta-worthy home tidy?
We could go on and on, BUT you get the gist, right?!
THE NEW SERIES
Get ready friends! In our new series we'll be showing you how we make practical design decisions that mean we end up with a home that hits our design brief AND creates a space that the new owners will love living in for years to come. We'll be showing you what we choose and why so you too can create your very own DREAM HOME. It's all in the planning baby!