TAKE A PEEK AT HEATHER'S
NEW INDOOR OUTDOOR ENTERTAINING AREAS
Hands up if you're a proud Home Body like us! 
Heather takes home entertaining to (super comfortable, practical and stylish) new heights, and shares her 3 key considerations when designing the indoor/outdoor areas of our domesticated dreams.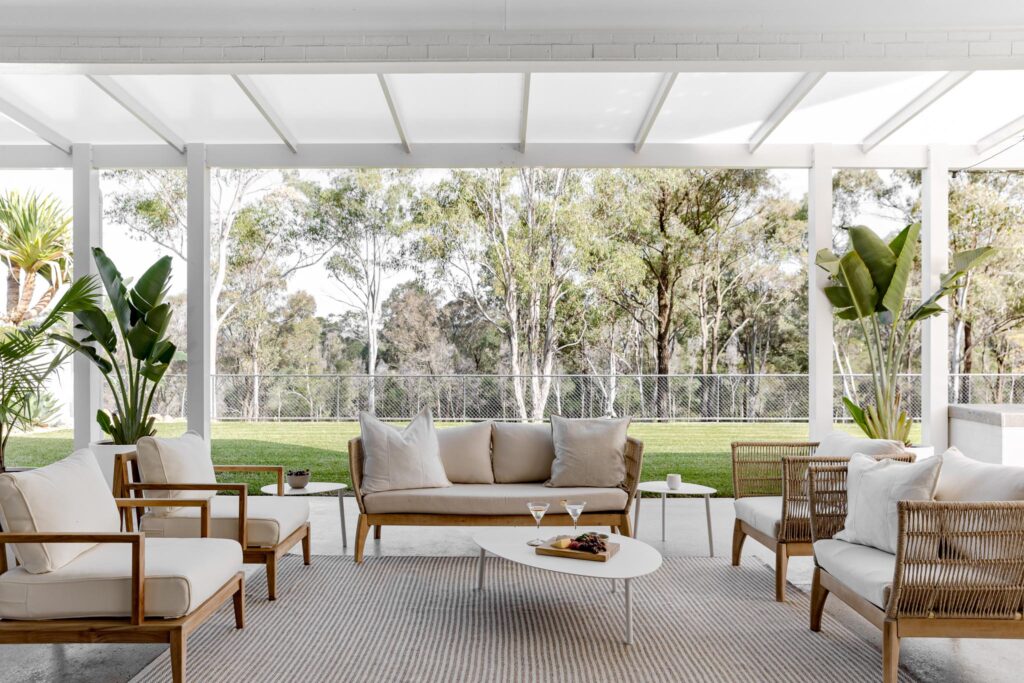 Creating the zones you can 'zone out' in

The Gampe household are all unashamedly home bodies…there's nothing we love more than having our family and friends over. Enjoying a cheeky drink and some of hubby's amazing meals (he's the head chef here, not me). For us, we wanted loads of space for all our favourite people to sit around comfortably for hours and hours. That meant creating zones in our entertaining areas.
OUR INDOOR OUTDOOR ZONES INCLUDE – 
OUTDOOR DINING
Complete with teppanyaki grill, sink and of course – the pizza oven! 
This area gets the most beautiful and warm afternoon sun in the cooler months of the year. We needed a long table for all the family to sit around, whilst hubby serves up another one of his semi-famous pizza creations. 
Against the white bricks, concrete floor and black window frames I knew I wanted a timber table to get the look and feel I had seen in so many of my inspo pics. Long tables are hard to come by but I loved the Reclaimed Teak Table and Bench Seats from Early Settler's.
 OUTDOOR LOUNGE
It's the perfect place for an afternoon cuppa and a good book, or a couple of cocktails and a cheese platter with friends. The furniture out here had to tick three boxes. Comfy to sit on, suit my vision and have washable covers. The last point is important because kids will be kids and birds… well they like to do their business anywhere. Cue the hero piece – these teak armchairs from Outer come with their own built in cover…more on that next week. #staytuned
LIVING ROOM
I wanted this space to be a 'sophisticated' chill out zone (if there is such a thing as being a classy couch potato?). The vision was somewhere we could snuggle up on the lounge and watch a movie, but still offered us flexibility to entertain when visitors are over and look put together as a finished space. 

For easy breezy living
We have two huge sliding doors on either side of the living room that opens onto the Outdoor Dining zone with the Pizza Oven on one side. The other opens up onto the Outdoor Lounge zone. This means that when the weather is *just right*, we can open all the doors and have a great connection between all three zones!
This seamless flow is made even easier with our Haven Sofa from Lounge Lovers. Because it's a modular sofa, we can reconfigure it from time to time depending on how we are using the space. Our Harper armchairs from Black Mango are also lightweight so they can easily be moved around for extra seating where it's needed. 
To complete this easy breezy way of living, we also added a sheer curtain from Home Blinds Australia to help filter the light into the room. We only needed to add it to one side of the room as the other side doesn't receive any direct sunlight.
3. BALANCING LOOKS AND PRACTICALITY
Can we have it all?
Yes, it's possible! I know how it feels to be scrolling online looking for inspo. Only to feel deflated when I see beautiful spaces that seem way too impractical for me to maintain. At the end of the day, I just want to spend time enjoying the company of family and friends without stressing about spills, stains and slips. Now, hear me out – a light coloured sofa may seem impossible to keep clean but this one comes with removable and washable covers! Because the Haven Sofa is a modular design, if something travels off my glass and onto my seat, I can simply remove that one part of the cover and pop it in the wash. Hey presto, it's a brand new sofa again.
From a maintenance perspective, our outdoor dining and living area floor is simply a concrete slab which we just grinded back and sealed. It means we have continued the concrete look from the inside out and it's easy to keep clean. We regularly blow it down to keep the dirt and dust off or hose it down when it really needs it.  #easypeasy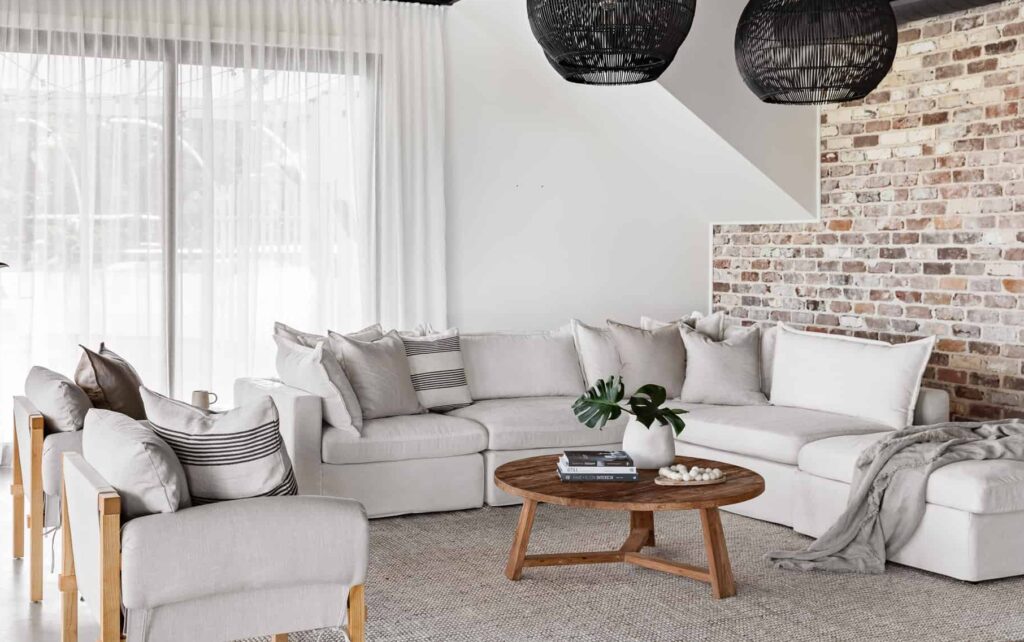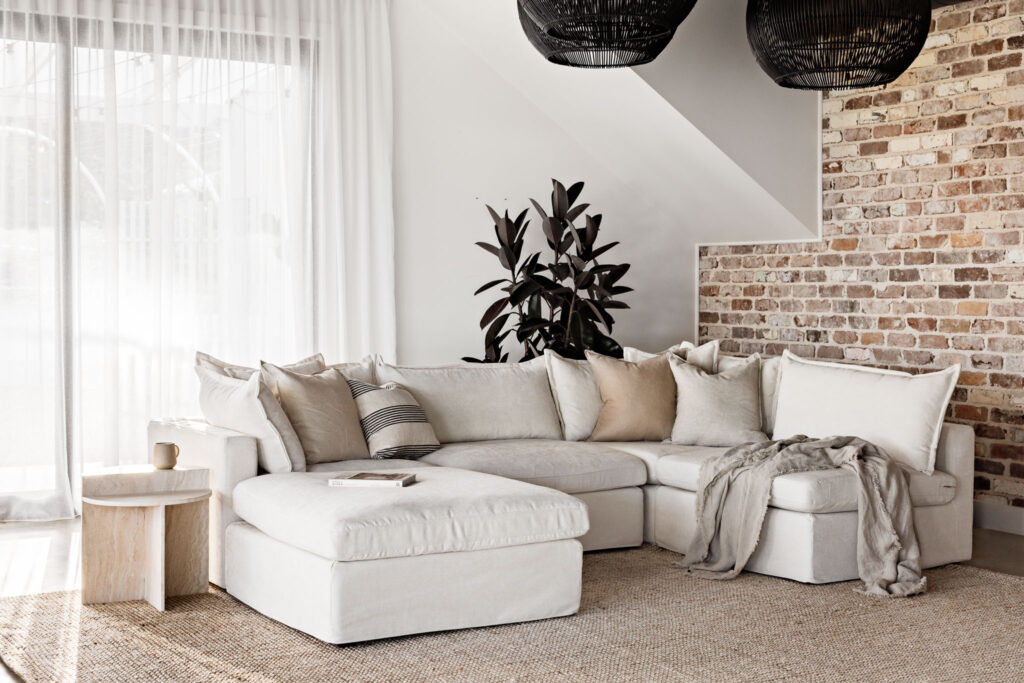 WANT ACCESS TO OUR EXCLUSIVE DISCOUNT CODES FROM SOME OF OUR FAVE SUPPLIERS?