The secret to a clutter free space is having a 'home' for all the bits and bobs. You know…for all the random things we accumulate throughout our lives. Plus all those things we need to use on a day-to-day basis like clothes, hair elastics and food packaging. Having designed, built, and lived in multiple homes (with kids in tow), we don't ever underestimate how important it is to create cabinet design ideas that offer a clutter free, modern cabinetry design for both functionality and style.
YES, you can have both! 
Read on to learn our 3 must-have cabinet design ideas for a clutter free space. 
WANT A MAGAZINE WORTHY HOME
We're not going to lie, although our own homes have featured in Home Beautiful magazine #pinchmemoment, what you see in the mag's and on our Insta feed is not how our homes look every day. Shock horror. Why? Because we have kids of course.
Like most mums, our lives are busy. From school drop off to soccer and gymnastics, play dates and birthday parties, trying to maintain an Insta worthy home every day, just isn't possible.
If there is one thing our experience has taught us, it's that if you spend time exploring cabinet design ideas, you're likely to find clever ways to stow things and make them easy to pull out and put away again. Hopefully keeping the mess hidden.
Hands up if you're in dire need of some clutter free, storage tips?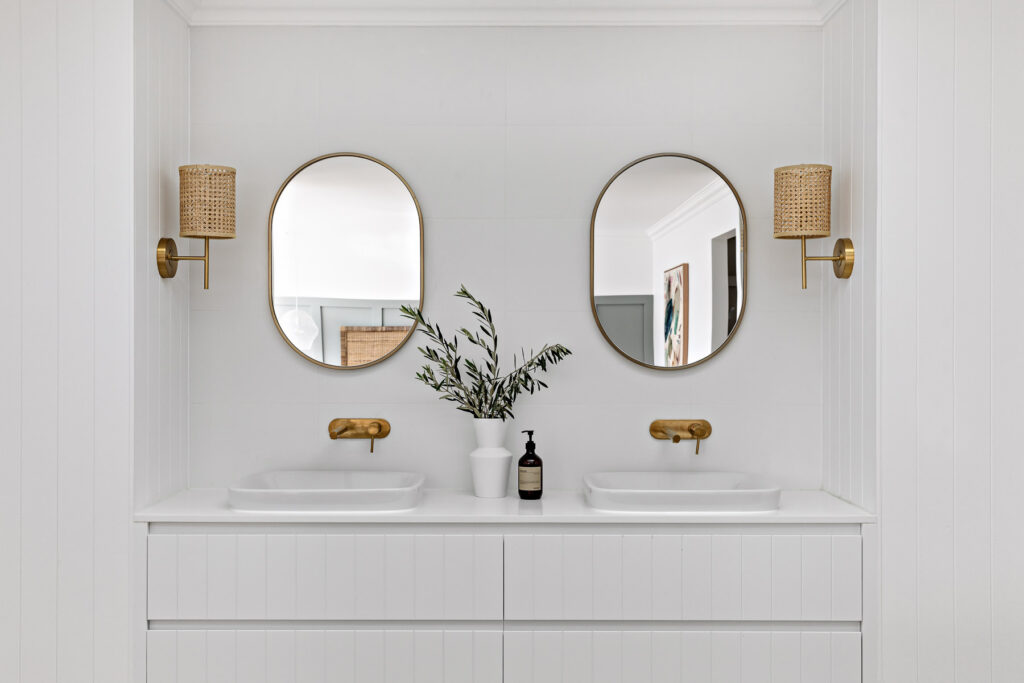 This is exactly why we love the flexibility of custom cabinet design ideas; you can design your cabinets to suit your families' specific needs. It means you can keep things like printers and cables neatly hidden in the home office or custom design a mudroom to hide the kids sporting gear just like we did in Dream Home 7.
That's the true benefit of customising your modern design cabinetry, you can adjust the cabinet measurement right down to the mm just to fit YOUR printer, modem or whatever other hidden storage solutions you want to include.
Here are our all-time favourites for keeping the Kitchen, Laundry and Bathroom clutter free day-to-day
1. Double built-in bin in the kitchen
We like to place our's near the sink and dishwasher for easy after meal clean-up.
2. Soft close drawers in the bathroom
It is so much easier for kids to get things in and out, everything is easy to see and reach. 
3. Double built-in laundry hamper
One for lights and one for darks. Because nobody wants dirty clothes on the laundry floor. Right? 
Colour is nothing to be feared!
It is one of the easiest and most affordable ways to create a designer look on a budget. There is just one key to consider when choosing coloured cabinetry, make sure you create a flat lay with your tiles, bench top and taps so you know all the colours will work harmoniously in the room. Don't ever forgo the planning phase, you don't want a disaster after the fact that could have been easily avoided.
Click on image for a closer look at the colours we have used.
There you have it, our top custom cabinet design ideas to help you create clutter free spaces, that not only look great but are easy to keep tidy too! High fives all round.
Which one is on your must-have list? Tell us in the comments below.
IF YOU MISSED OUR DREAM HOME 7 SERIES YOU CAN CATCH UP NOW ! SEE BELOW