Working with small ensuite floor plans requires a few clever tricks to maximise your space. Steal these ideas from our best ensuite floor plans to create a space that is beautiful, practical and functional. 
TWO SINKS, OR NOT TWO SINKS? 
When working with a small ensuite floor plan, having one sink or two is a hotly debated topic. There is no right or wrong, but you may find that one sink fits your space (and lifestyle!) best. 
Most standard sinks are between 500 to 600 millimetres. If you're working with a small floor plan in your ensuite, consider searching for a sink that is no wider than 400mm, as this will allow you to implement more bench space.
Whether you place your sink to the side or in the middle, ensure you have more than 600 millimetres of bench space (our guideline for the absolute bare minimum!). If your chosen sink means you will have less bench space than this, you may want to consider finding an even smaller sink.
The overall size of your vanity and bench top will be determined by the location of your shower and toilet, and how much space is dedicated to each. If you missed it, we recently answered your questions about this: check out 5 bathroom measurements you must know in our journal.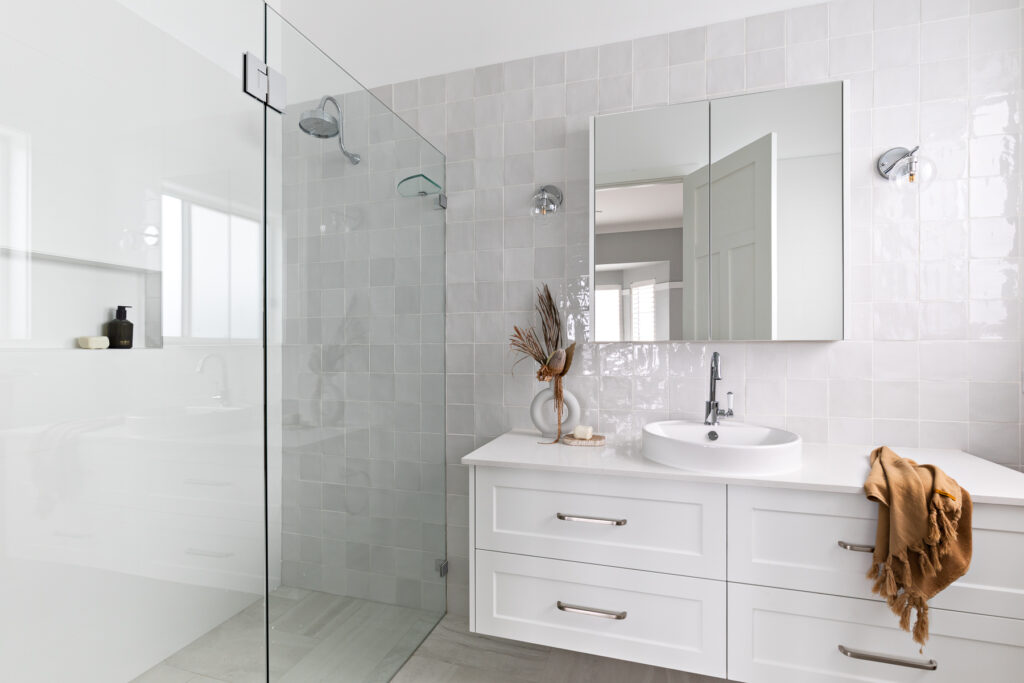 SAY NO TO CROUCHING
If you've ever watched an episode of The Block, you will know how important face height storage is (#thanksshaynnablaze)! Although face height storage does come with additional costs over a standard mirror, if you're working with a small ensuite floor plan, utilising wall space will be your best option for adding storage. 
HOT TIP Remember to include a powerpoint in your shaving cabinet for the hair dryer, curler and straightener!
3. DRAWERS INSTEAD OF DOORS
SLEEK FUNCTIONALITY IN SMALL SPACES
The best ensuite floor plans choose drawers over doors, and it's a no-brainer for us. They keep the ensuite tidier and easier to navigate, and it is so much easier to pull things out and put them away when you're dealing with drawers. No more crouching down low to search for things at the back of cupboards!

When planning for your drawers, make sure they are deep enough for all your everyday things to fit, especially if you have a wall-hung vanity.
4. FRAMELESS SHOWER SCREEN
FOR THE ILLUSION OF SPACE
No sugar coating here: it can be expensive to include a frameless or semi-frameless shower screen in your bathroom. However, for a small ensuite floor plan, it is so worth it! These shower screens make the bathroom feel much bigger. When planning for a frameless shower screen, be sure to consider the dreaded splash zone, which you can read about here
5. GO HIGH WITH YOUR CEILINGS
IF YOU CAN'T GO BIG, GO HIGH
Don't underestimate the power of high ceilings to make your small ensuite floor plan feel more grand and luxurious!
In Episode 1 of our Dream Home 6 series, we show this effect in action – a plan that was inspired by the slope of the block and the required drop edge beam. We ended up with a whopping 3.3 metre ceiling height in the Master Ensuite, and although this was a site-responsive design decision, we loved the impact it made when you walked into the room! 

If you want to save precious pennies while doing so, you don't need to run your tiles all the way to the top of the ceiling. The effect will still be the same: absolutely fabulous. 
WANT TO SEE THE FULL REVEAL OF THE MASTER ENSUITE IN DREAM HOME 6?
CATCH UP BELOW