HOW TO TRANSFORM YOUR MASTER SUITE USING A NATURAL COLOUR PALETTE
Looking to restyle a room? Why not consider an all neutral look. You may think natural colours like beige, white, grey, ivory or even taupe lack colour but in reality, each of these hues have undertones that provide a solid foundation for adorning your home, no matter what the style. Not convinced, neutrals are chic and timeless, no matter what the season. When applying them to your home, you'll quickly discover how versatile these hues can be particularly as trends and personal preferences change. Let us show you how to create a natural modern interior design style in your home.
Neutrals can be used two-fold within a room. They can be used to provide a natural calming look collectively or as a solid background to a room seeking to apply dramatic accents throughout.
Decorating a room with a neutral palette of paint, fabrics, furnishings, textures and accessories offers warmth, and also makes it feel much more organic and relaxed. Today, I wanted to turn it up a notch and teach you how to transform your master bedroom into a neutral paradise.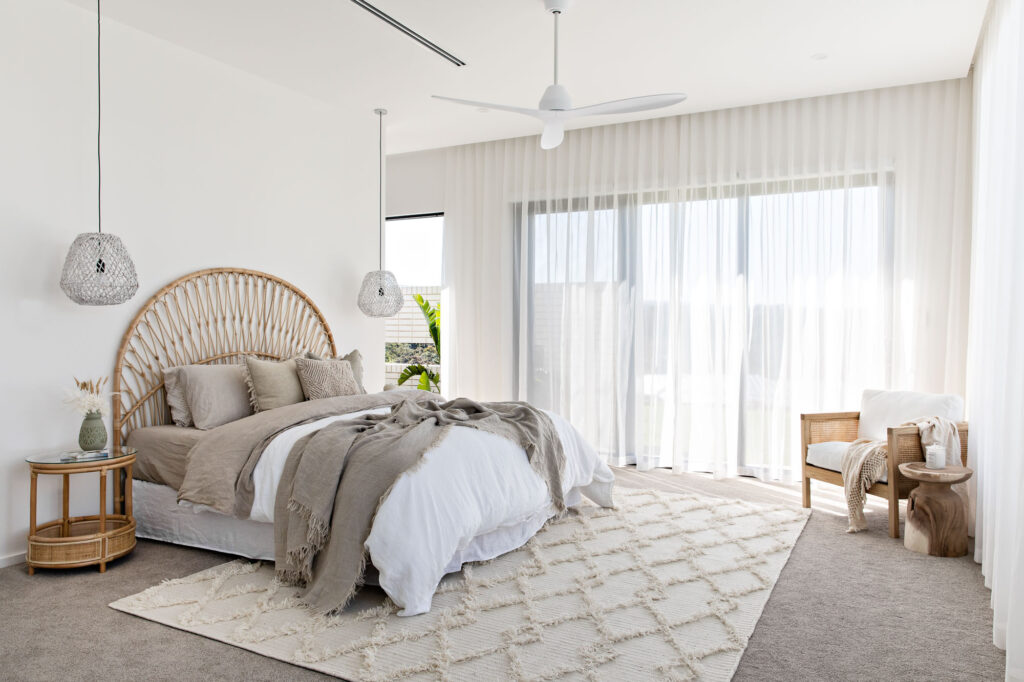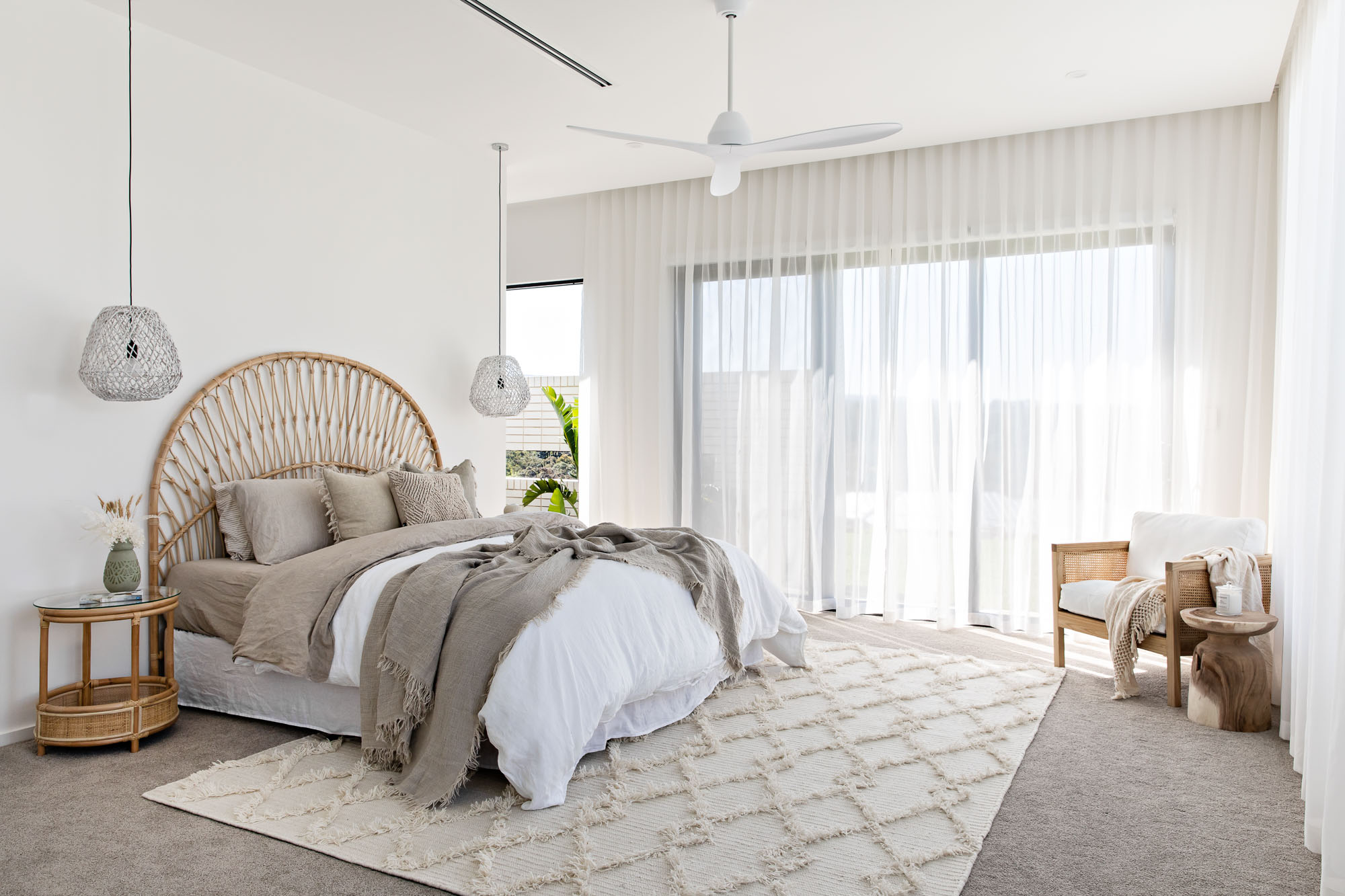 LAYER WITH COLOUR TONES
A quick way to achieve a classy and sophisticated look for your Master Bedroom is to layer with colour tones but use different hues of the same colour. This will mean they all have the same undertone and will seamlessly work together.
Add different textures using your natural colour palette from cushions to throws and bedding. Linen is on trend right now and with good reason. Its natural fibres are delicate yet strong, soft, breathable and have a lower impact on the environment than cotton. Not only that, linen offers a subtle way of adding texture to room or bed. Why not add in the works; linen sheets, quilts, covers and cushions. It's so easy to get your hands on linen bedding today, and in stunning tones.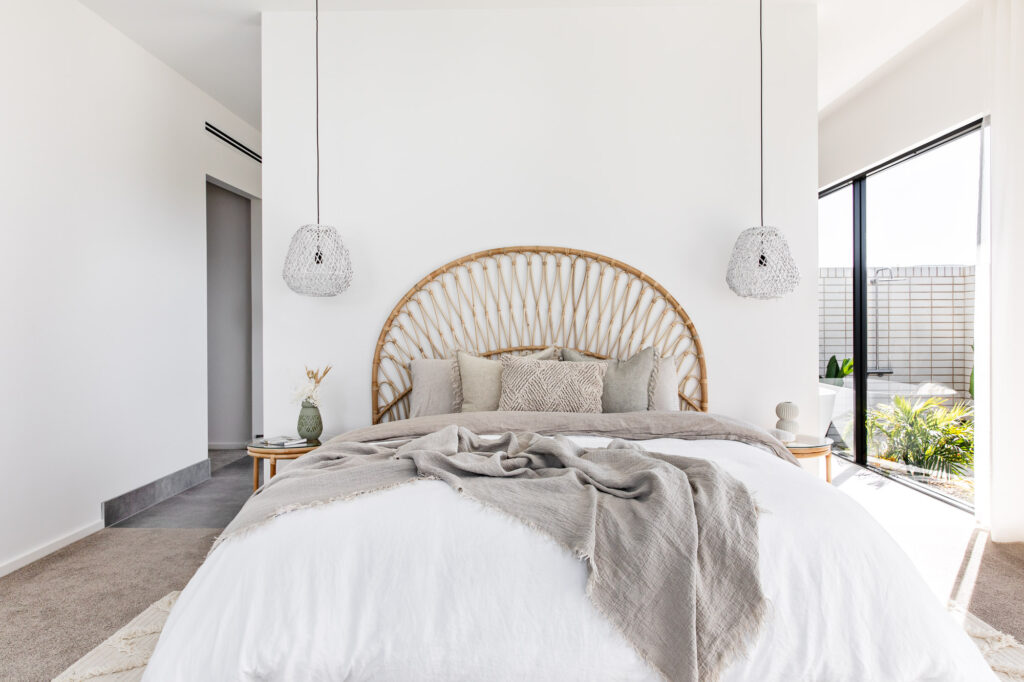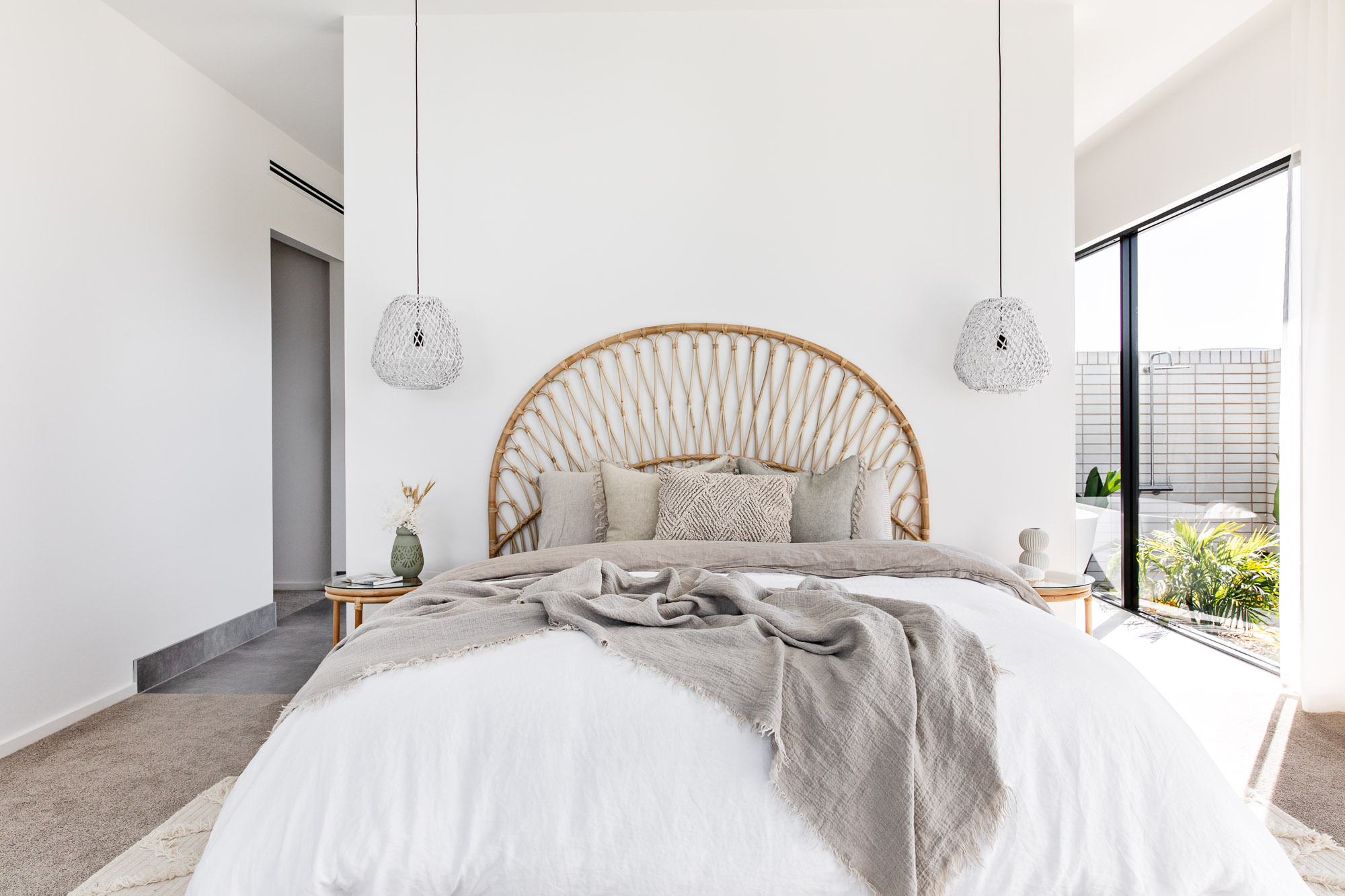 APPLY DIFFERENT TEXTURES
Adding textures to your room is key when styling with a neutral colour palette. It's a great way to add accent to a room and ensure it never looks dull and boring. Textures can be incorporated through cushions, throws, rugs or even lamp shades. In our home, we often use rugs as they not only help zone the room but add an additional layer at the same time. And can I tell you, nothing feels more luxurious then waking up in the morning, sliding out of bed and placing your feet on a soft, lavish rug.
ADD A HINT OF NATURE
Complementing your neutral hued room with a touch of nature adds a feeling of life without adding any colour. Earthy, natural materials immediately make the room feel organic and relaxed which is perfect for your master suite. If you want to take it that little further, incorporate timber and rattan furniture pieces. Curves mimic and reflect nature where everything grows free flowing and natural. Where possible opt for curves over rigid lines in furniture pieces to achieve this effect.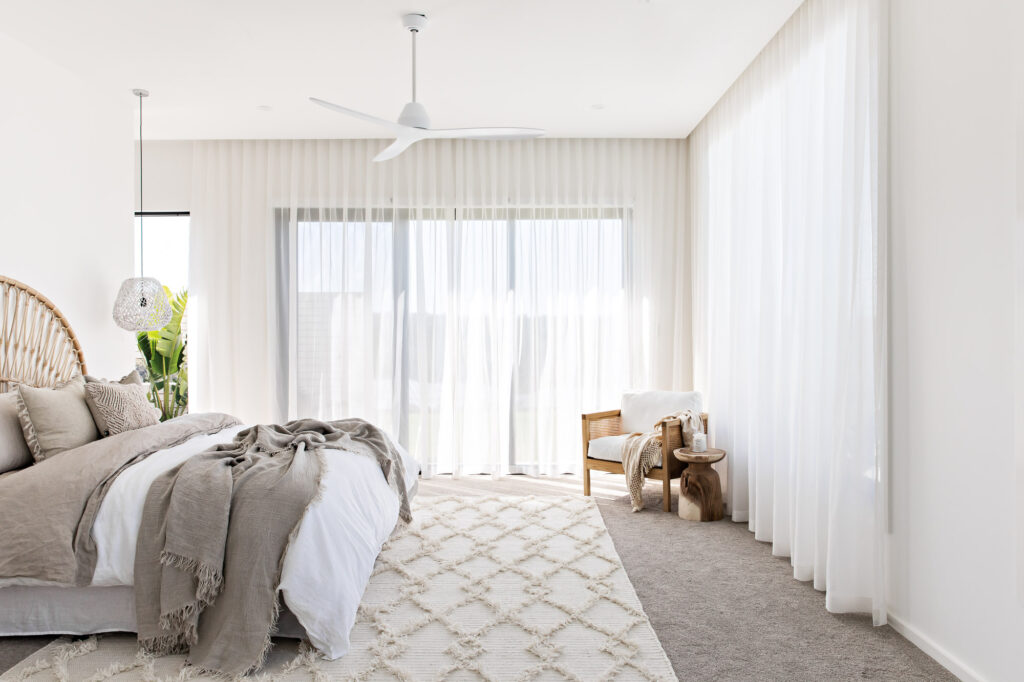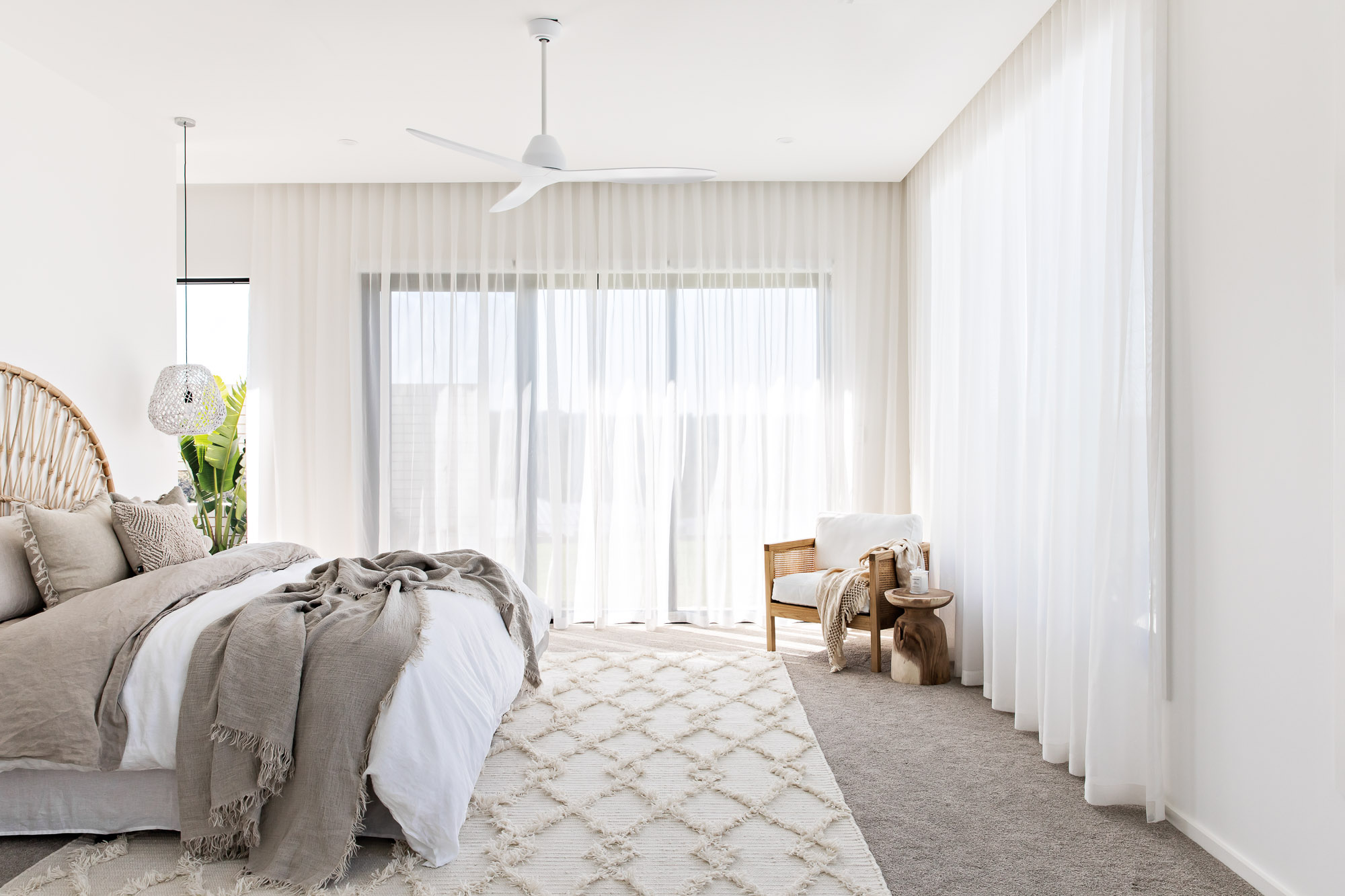 FINAL STYLING TOUCHES
It's important to ensure that the room ties together. The last thing to do is add accessories that include some or all of the shades you've used in the room. Whether it's dried leaves or flowers, palm fronds in a white pot or a print to hang on the wall, the rule here is to ensure the hues are cohesive. Keeping your styling minimal and organic in shapes and tones is the last piece of the puzzle to pulling off a killer neutral toned master bedroom.
It's no secret that I love using a neutral palette, particularly in the Master Suite. It not only looks clean, fresh and beautiful but offers a calming vibe which is perfect for the room you want to retreat to after a long day.
Apply some of these tips to your rooms and you'll see dramatic changes with minimal cost and effort.