By Heather
Ready to design a kitchen that you'll absolutely love? Having built and renovated several homes over the years we've picked up a thing or two on what makes a great kitchen design. Here are our top three modern kitchen must-haves to create a functional and dare we say easy to keep tidy kitchen in your home. ALL three are affordable ways to help with the day to day clean up and useability of the most hardworking room in the house.
1. THE PULL DOWN SINK MIXER
Not one, not two, not three BUT ALL FOUR of our last homes have had pull down sink mixers.
They are the bees' knees and definitely a must-have in a kitchen.
Don't believe me?
I had a chat with my cleaner recently to ask if she notices a difference given she is cleaning homes both with and without them. Guess what she said? Hands down it's 100% easier and she prefers them! I still clean the sink between her visits of course.
(Yes, I have a cleaner who comes weekly for two hours. I am not superwomen. Ha!)
Having a pull-down sink mixer makes it super quick and easy to clean the sink each day because you can get into all the nitty gritty corners ensuring no dirty residue from your dishes is left behind. It's a bonus if you have one that can be switched to spray mode for rinsing fruit and vegies too.
Pull-down sinks mixers are a great way to get the kids involved. They make it easier for the kids to reach and let's face it, the more the kids can help the better, right?!
Plus, if you have double sink bowls these mixers offer flexibility between which bowl you use and for what. Funnily enough, everyone uses their sinks differently.
Gone are the days of having your freshly renovated, or newly built kitchen being spoilt by the look of a bin. Built-in bins are the perfect way to free up space and keep your kitchen looking tidy! Put this on your new kitchen must-haves list NOW!
If you're building new this will likely be an upgrade but it's so worth it.
Here's why we love them:
– can be located nice and close to your sink and dishwasher for quick clean-up after meals
– or, if you prefer to, locate it near your meal prep area so you can discard food scraps as you go
 – double bins are great for easily sorting rubbish from recycling
 – the handles make them easy to carry to the big bins outside.
These days there are loads of different sizes and combinations of built-in bins to suit different circumstances.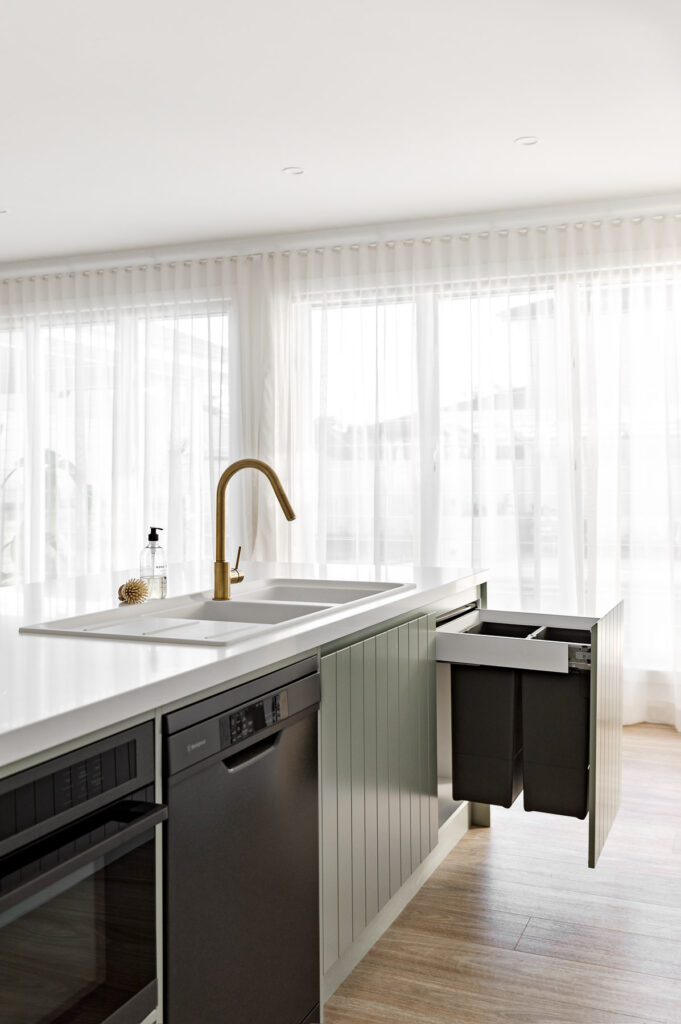 It doesn't matter what age you are, it's never fun having to bend down and search at the back of cupboards looking for things. Soft close drawers are the way to go. They can't be slammed shut by the kids and they protect the contents of the drawers too.
Sarah and I both get our kids to unstack the dishwasher as part of there chores and having these drawers in our kitchens makes it so much easier…. for the kids, and us or course! #teamworkmakesthedreamwork
Even as we get older bending over to pull our baking trays or pots and pans from the back of a cupboard puts more and more strain on our bodies. We're no spring chickens anymore. When you're designing your dream kitchen, make sure you think about the future too.
These are absolutely worth every penny!
BUDGET TIP
When it comes to investing in soft close drawers, our motto is 'the more the merrier'. Try and put in as many as your budget will allow even if that means sacrificing something aesthetically. 
CHECK OUT THE CLEVER CABINETRY WE USED IN DREAM HOME 6.