Mudrooms were once a luxury in home designs. Now, they are more popular than ever!
And with good reason. A well-planned laundry and mudroom design combo can be a sanity saver for families.
In our design for Dream Home 7 we not only wanted to make a practical space but one of the best laundry mudroom combos a family could ever dream of. On top of all that, we wanted to make it look pretty damn good too. #wedoloveachallenge
LAUNDRY AND MUDROOM IN ONE
Picture this – the kids come home from soccer practice with dirty boots and smelly socks. What happens to the wet swimmers and towels after swimming lessons? All these need to be unloaded somewhere, right?! And you know exactly where that will be without a designated space don't you?! #thestruggleisreal
That's exactly why we prefer the laundry and mudroom design combo. It means all the dirty stuff ends up where it needs to be to get clean, instead of on the bedroom floor. #yuck
And…when soccer socks and swimming towels are clean again, they can be neatly stored out of sight, ready for the next time they are needed.
In our experience, a double-storey home is where the best laundry and mudroom design combo really shine. It saves so many trips up and down the stairs for things that are needed often like school bags and shoes. Plus, with some extra clever storage solutions you can keep your laundry and mudroom design combo looking neat and tidy. Finally!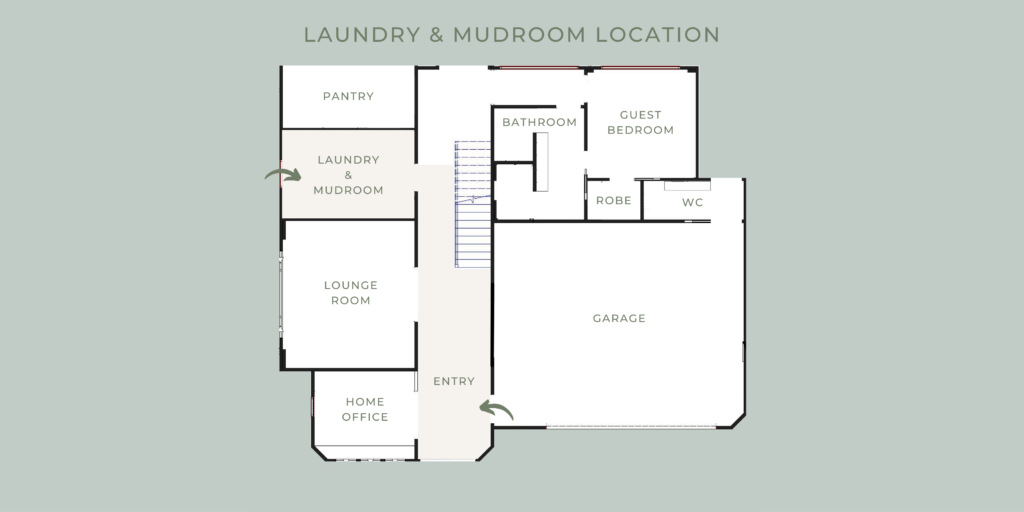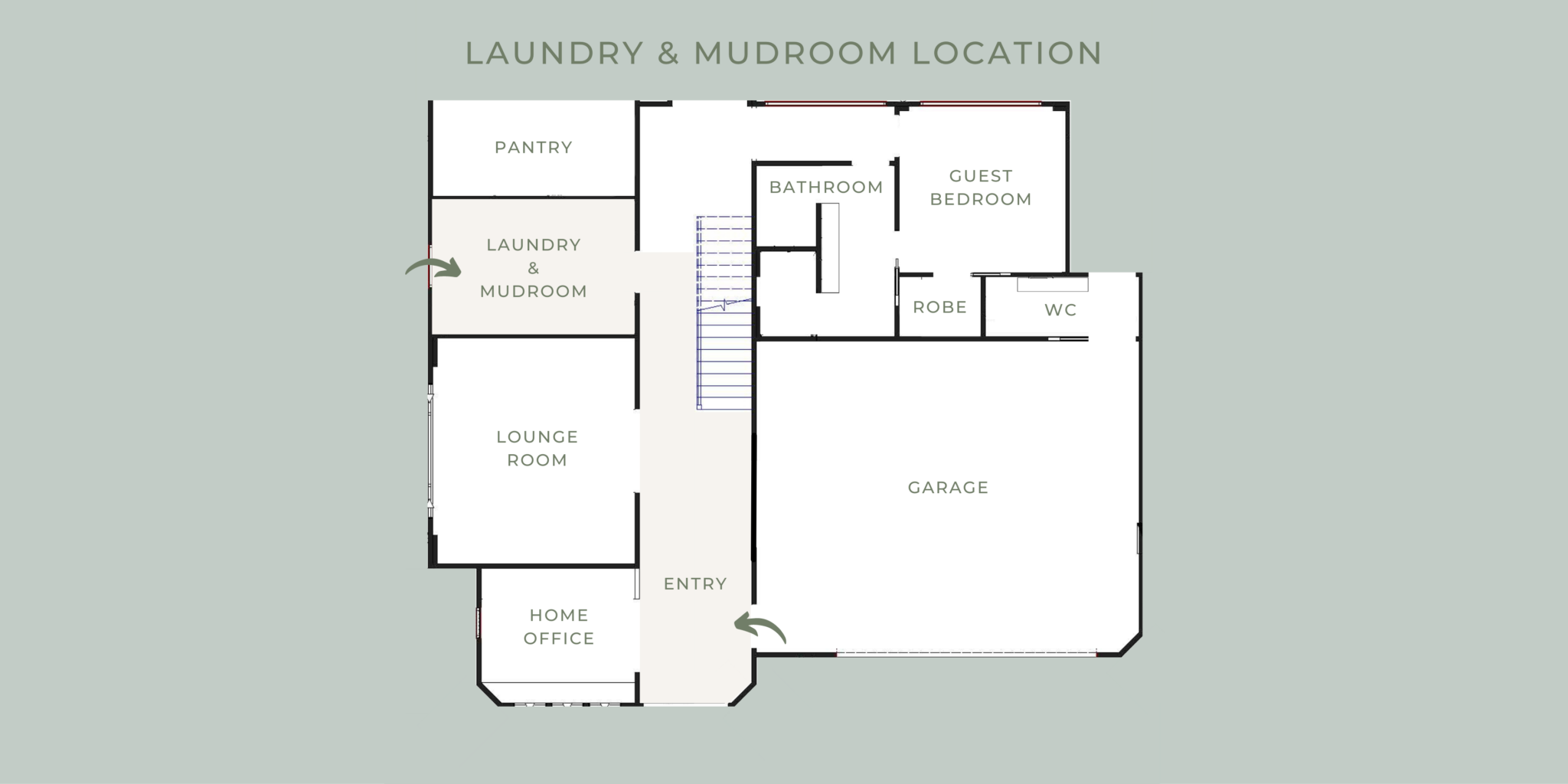 Contrary to popular opinion, a mudroom DOESN'T have to be near your front door.
A great alternative for its location is as you enter the home directly from the garage. It means the mess is out of site from guests and can be put just where it's needed before the kids have a chance to spread it from one end of the house to the other. Insert eye twitch here.
And it's exactly what we did in Dream Home 1 and Dream Home 3.
In Dream Home 7 we couldn't do this as the orientation of the block meant we needed to make other priorities. It still serves its purpose, so whether entering through the front doors or garage, everything can be dropped off in the laundry and mudroom before it arrives in the main living areas.
PLANNING WITH PURPOSE IN MIND
Every family is different. Whether you have yourself an up-and-coming Ronaldo, the next Ash Barty or Ian Thorpe, there is a huge chance your children's extracurricular activities are going to require uniforms and/or equipment you don't want trailed throughout the home, leaving a mess, and dirtying your freshly cleaned floors.
Before you dive into the designing the layout of your laundry and mudroom design, it's worthwhile writing a list of what you need storage for. Could it be flippers, goggles, hockey sticks or even a karate uniform? The list goes on.
Want a laundry and mudroom combo layout you're going to LOVE using every day?
Start with where you're going to put your washing machine and dryer. In Dream Home 7 we chose to remove the external laundry door which meant we wanted our appliances close to the internal laundry door. We continued the benchtop over our Electrolux front load washer which gave us something to sit our heat pump dryer on.
A PLACE FOR EVERYTHING AND ...
everyting in in it's place. That's how to saying goes , right?! Our loveable layout for Dream Home 7 was a success because we took the time to compile a list of everything we would need to store in the laundry and mudroom design combo, just as if we lived in this home. And we flooded the space with storage solutions you soon won't be able to live without.
Here's what we came up with ….
SHOES
Our solution was Hettich's Inno Tech Atira soft close drawers, complete with the bench seat above.
BAGS
Decorative wall hooks are your best friend when it comes to keeping the bags up high.
DIRTY CLOTHES
A built-in laundry hamper is a must-have right next to the washing machine. We used Hettich's Inno Tech laundry hamper with pull-out baskets…one for lights and one for darks #noexcusesnow
CLEANING
A cupboard tall enough to store brooms, mops, and the vacuum cleaner.
TOWELS
With a swimming pool and guest bathroom downstairs, a linen cupboard was a must!
But don't worry we included one upstairs too, just outside the main bathroom.
Anything we forgot? Tell us below
MISSED OUR LAUNDRY AND MUDROOM WALKTHROUGH?