Colour? For your cabinetry? Ground-breaking.
No really, it is!

We're not shy about using colour in our bathrooms and kitchens. If you love that look, but you're not sure about making that level of #colourcommitment – why not BE BOLD in the laundry? Especially if you're on a tight budget after spending up big in the kitchen and bathrooms, adding colour to your cabinets is an affordable way to bring pizazz to your laundry room.


With the right decisions in the right places, the laundry will be where the party's at.
🎶 Wash, fold, sleep, repeat 🎶
Let's get brave with your laundry room cabinetry colours
WHY YOUR LAUNDRY ROOM CABINETRY COULD DO WITH A SPLASH OF COLOUR
If there's a part of you that is itching to be bold and brave with colour, the laundry is a great alternative to throwing shades over a kitchen or bathroom. Visitors generally don't go to the laundry room, and besides, doing laundry can be fairly boring – so why shouldn't the space be beautiful when you spend hours a week in there!
READY FOR A PALETTE OF POSSIBILITIES?
HERE ARE OUR TOP 3 TIPS WHEN IT COMES TO CHOOSING CABINETRY COLOURS FOR YOUR LAUNDRY 
Before choosing cabinetry colours, remember to make sure it still suits the rest of your home. Think about tones, textures and your personal taste. You want your laundry room cabinetry to be a refreshing pop of colour, not a blaringly bold space that's standing out for the wrong reasons.
Colour is an affordable way to add character to any room, especially when paired with the right tiles. Let the cabinetry be the hero, by keeping your floor tiles and splashback simple. This will make the room feel too busy, and since laundries are generally small, you still want to make the room feel bigger than it is.
Consider which way the laundry faces, and how big your windows are. This affects how much direct sunlight the room will receive throughout the day. If you have generous light, you can opt for mid tones and dark shades with your cabinetry colours (if that suits your style), but if the room doesn't receive much natural light, then stick with a soft and paler palette. Or a #lightwash, pardon the pun.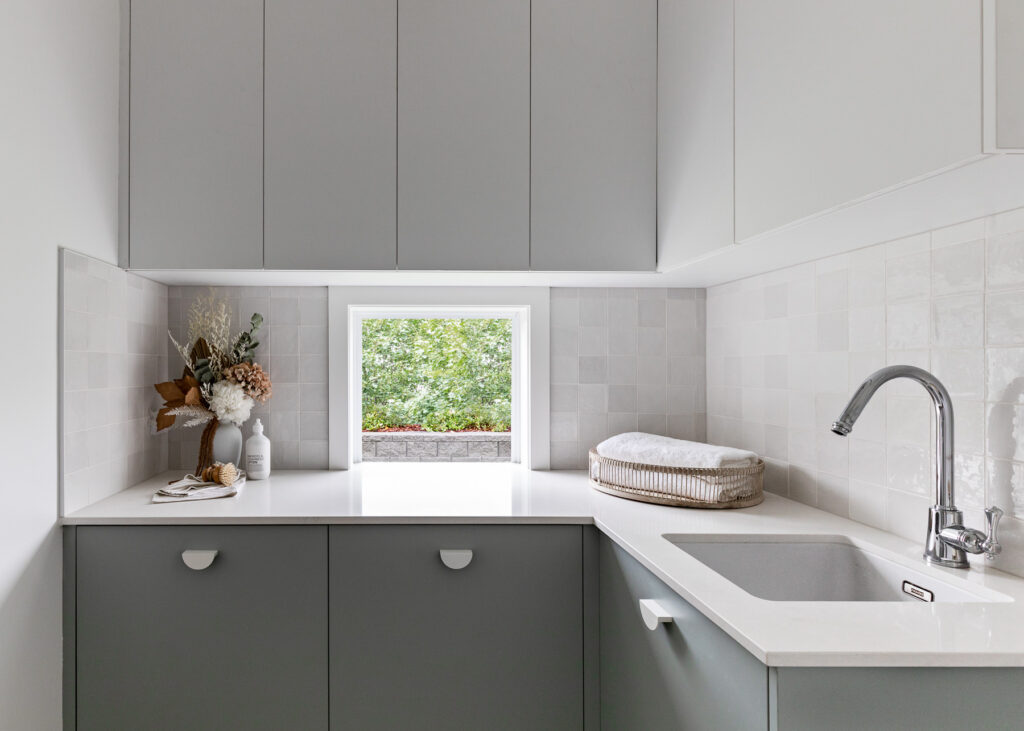 A SPECTRUM OF STYLE - TIME TO GET INSPIRED!
In Dream Home 6, we used Laminex Spinifex on the under-bench cabinets only, and Calm White on the overhead cabinetry. This combination makes the room feel bigger and brighter. It adds a little luxe to the laundry.
Over at Dream Home 7, we had a much bigger laundry space. Here we used Laminex Seed throughout the whole laundry for our cabinetry colours. Because the palette is more subdued on the cabinetry, we had fun by mixing up the tile patterns on the floor and splashback – but still using the same tile profile for a cohesive result.
HOT TIP
If you love profiled cabinetry (like the Shaker profile we used in Dream Home 6 or the V Groove profile in Dream Home 7), but it's stretching your budget, save your bucks by choosing Laminex cabinetry colours in a natural finish.
GET THE GLOSS ON OUR LAUNDRY REVEALS CLOSE UP AND SHOP OUR STYLE!