HOW TO CHOOSE LIVING ROOM FURNITURE
Whether you're giving your living room a complete makeover or looking for a quick and easy refresh, this simple guide on how to choose living room furniture is for you.
The living room is the heart of the home and needs that extra something special. Think style and practicality. Pocket our six steps for a legendary living room your guest's will be raving about long after they've left.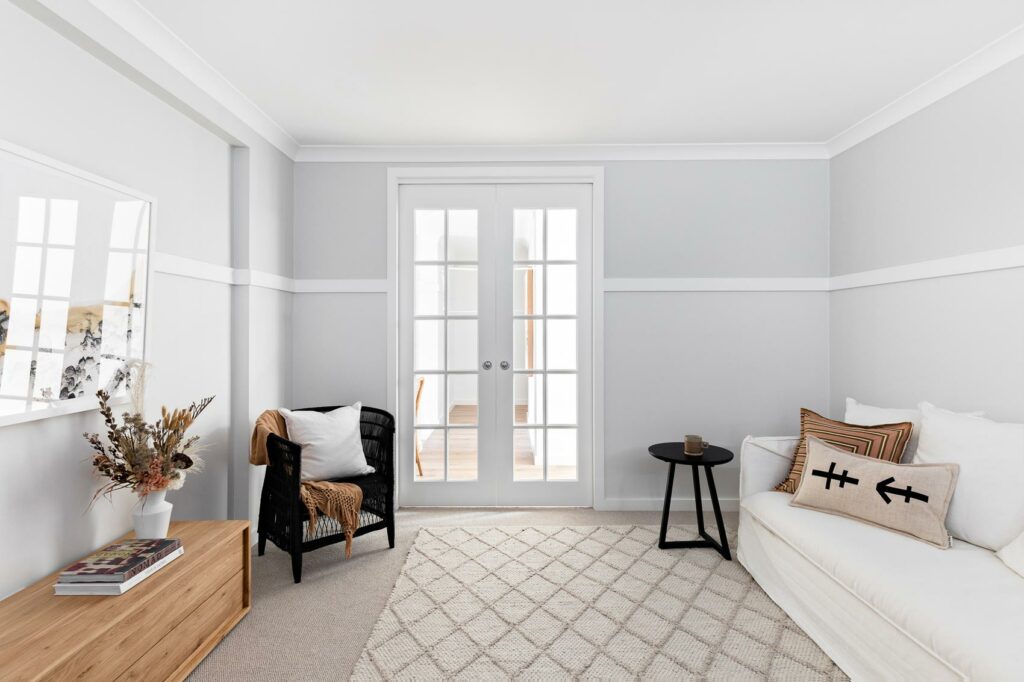 PURPOSE
A living room can mean different things to different people, and it really comes down to who's in your family and what you're going to be doing in your living room.
Will there be loads of binge-watching sessions or do you have a dedicated media room for that? Will it be used for entertaining? In that case you will want seating that enables you to site and look at each other? Have you got little ones and want to be able to hide away their toys when they have finished making a mess? We know this one all too well.
You'll quickly come up with a list of just what you need to make sure your living room functions well and has everything you and your family need to live comfy and cozy in the space. You'll soon see, it's not just about the aesthetics. Read on to find out why!
CHOOSING A STYLE
If you have spent any time scrolling Pinterest or Instagram, you'll know it doesn't take long to be overloaded by inspo! It's so easy to fall down the research rabbit hole. Whether Scandavian furniture is your style or modern coastal is more your jam, there are some easy questions to ask yourself before you commit to a particular style. It'll save you bucketloads of time and help to keep your shopping a little more focused too, say what!
Ask yourself?
Will I still love this in 5 years?
Do I like the feeling this style creates?
Does this suit other areas within my home?
CREATING A MOOD BOARD
Once you're set on your style, choose three to five of your absolute fave images to put together a vision board. This will help guide your decisions as to what designer furniture pieces you want to use in your living room that'll no doubt help you create the right vibe in this zone.
Your purpose and style should help you narrow down just what furniture pieces you really need in the space and what style you should be searching for. Then the fun really begins when you can create a mood board and try out different pieces together on the one page to make sure they look great together. You'll will find out quickly if you have a good eye.
Before you get carried away, let's quickly address colour. Try to stick to three colours with your décor to keep it looking chic. And be sure to consider what other colours or décor the room already has before getting your heart set on those new pieces you just can't live without. And believe it or not, sunlight also plays a huge role in furniture selections. Who knew! If your living doesn't have a lot of natural light streaming in, consider lighter oaks and whiter tones to brighten up the room.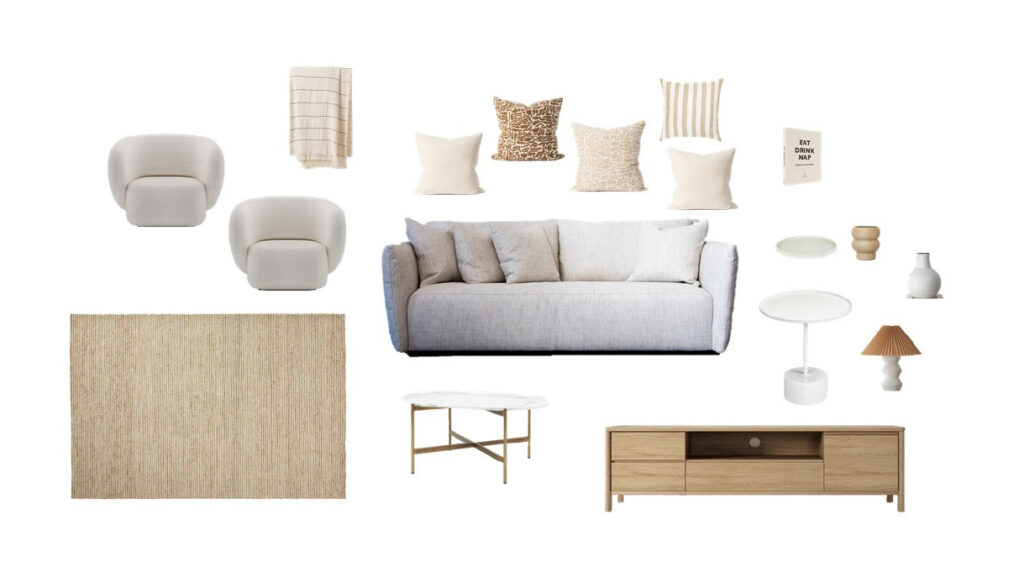 Hint – we suggest starting with your big-ticket items first.
SHAPES & SIZE
A word of warning: don't let looks deceive you. It can be all too tempting.
Whack out your measuring tape or masking tape or simply whatever it takes make sure the pieces fit. You'd be surprised at how many people omit this step. Our recommendation is to start with your biggest pieces first and then move onto your smaller pieces. The key words here are SCALE and PROPORTION. You don't want your lounge making your side table look like the size of a coffee table #whoopsy.
It's also super important to check the space around your furniture pieces. And by this we mean make sure there is space. We don't want you tripping over or squeezing between pieces of furniture every day of your life because of poor planning. It's also a wise idea to measure the room depth, you don't want to be sitting on top of the tv.
Below is a checklist of standard living room pieces to consider in your planning:
✔ Sofa
✔ Armchairs
✔ TV Unit
✔ Coffee Table
✔ Side Table
PRACTICAL PIZZAZZ
In our opinion the key to keeping any room of the home looking neat and tidy is having enough storage to keep everyday items hidden away. Did someone say storage? Sometimes you might need to think outside the box to make sure you have enough storage for your needs. Sideboards and buffets can make a great alternative to a tv cabinet if you're tight on space. Wall shelves are another great way to display your treasured items (and are out of the reach of the little ones). Before you lock in your purchases, give plenty of consideration to your day-to-day living and make sure your new furniture helps solve your storage problems.
THE ICING ON THE CAKE
Here's the fun part where you get to inject warmth and personality into your living room. It's all the small details that make give your living room character and make it extra spesh.
It's also the part where you compliment your large big-ticket items with smaller on trend pieces knowing that in years to come you can easily change your styling items for a quick and cost-effective refresh. Trust me, the frequent updates will earn you interior design superstar status in no time. Here's the key pieces you want to include:
Cushions
Mix up colours, shapes and patterns but make sure there is some repetition.
Lighting
A floor lamp or table lamp are great for setting a mood
Trays
The perfect place for remotes so they never go missing (save yourself from hearing 'where's the remote?' ever again.
Vases
Three words. "Greenery changes everything"
Empty vessels
Don't be afraid to mix up sizes, colour and textures.
Rug
Warm up a room and give a decorative touch.
You're all set to start styling your living room. You've quickly learnt how to choose furniture for your living like an interior designer. Following our simply hacks really will help you create a living room that dreams are made of.