By Heather
I recently refreshed the Family, Dining and Kitchen areas of my home.  But since my kids have to live here too, I still needed to keep things practical. Since both Sarah and I have moved homes alot when the kids were younger, we've learnt a thing or two about designing homes that look great but are kid friendly too! We couldn't keep this to ourselves, we just have to share how you too can create a kid friendly home design using our best 5 tips and tricks.
HOW TO STYLE YOUR HOME AND KEEP THE KIDS
If you think our homes look like this all the time… think again.
We get one day to pull off a photoshoot, two if we're lucky, and every other day we're faced with the exact same challenges as every other family. 
 Sure, our kids are getting older which makes it easier, but we're no stranger to the struggle: "stylish interiors à la Instagram" vs. "oh, kids also live here".

Is it possible to have it all*?!
We'll help you tackle kid friendly home design with our 5 best tips and tricks for keeping the home looking insta-worthy, and still letting the kids live inside.

(*Yes, it's possible!)

1. KID FRIENDLY SOFA COVERS
IF ONLY ALL THEY DID WAS JUST LOUNGE ABOUT!
I had a couple of leather lounges when the kids were younger, and I found them hard work to keep clean.
Flash forward to a couple of years ago: I worked up the courage to try James Lane Como Sofas. I originally started out with their stone colour and one white sofa (yes white!). Truthfully it was only because it was all the stock they had at the time in the size we needed, so I threw caution to the wind. I haven't looked back since. 
There was nothing wrong with my grey coloured covers, but when I decided to switch things up recently and change my covers to their new Oatmeal colour, I felt confident doing it knowing I had just survived the last 2 years with white.   
The key to their kid friendliness: these covers are machine washable so it makes cleaning up spills so much easier. If you're looking to style your home and keep the kids, make sure you look out for removable and washable covers.
It's the epitome of pretty AND practical, just what's needed for kid friendly home design.
KEEPING THINGS 'IN', THAT SHOULDN'T EVER BE 'OUT 

Just because the kids' toys are bright and colourful doesn't mean your storage needs to be. 
When it comes to stylish storage, baskets are your best friend. They look great on the outside no matter what is stored on the inside. In our family room we used these ones from The Dharma Door for housing our fireplace kindling, but they would be perfect for safekeeping the toys in too! Plus, storing some toys in the main areas of the home could make it easier for the kids to pack them away rather than having to take them back to their room all the time. #EfficientHousehold
HOT TIP
Make sure you choose baskets with handles to make it easier to move them around.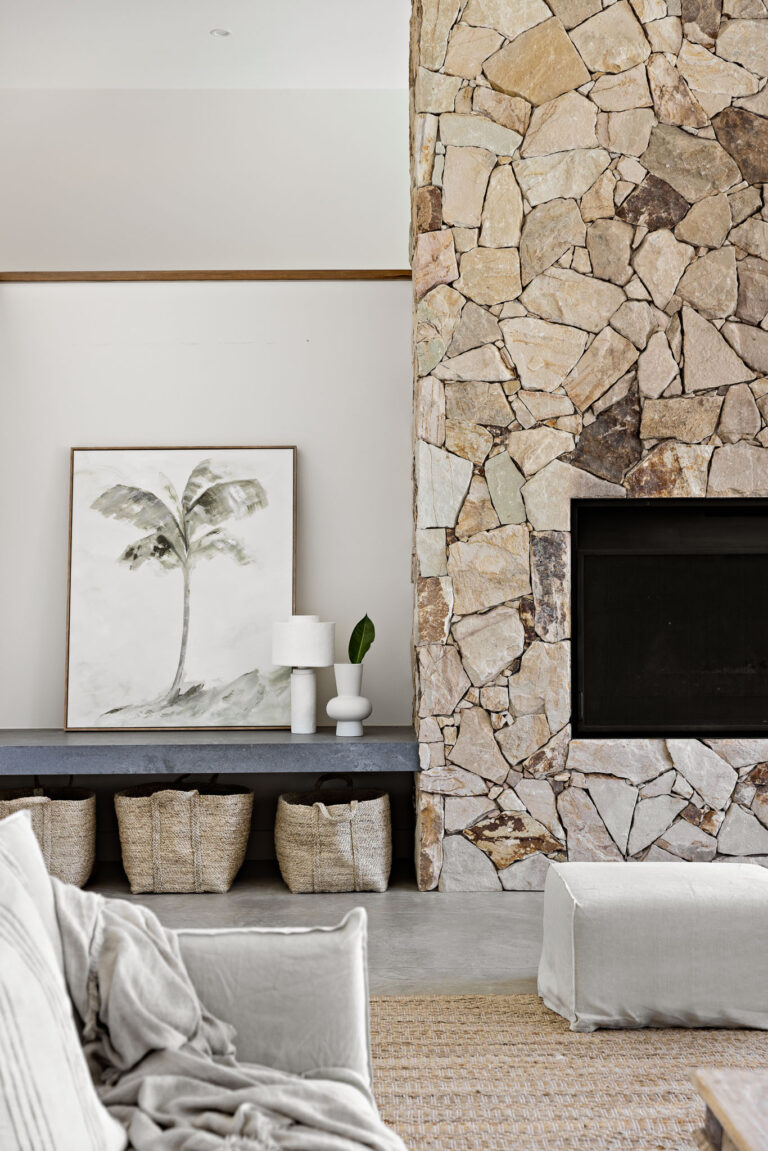 BECAUSE THEY STAY OUT OF FOOD SPLATTER TERRITORY 
Art will instantly give you a designer finish.

Because it's usually a safe distance from the kids, artwork is one of the few things that are unlikely to be damaged, or spilled on (disclaimer: not protected against food fights…)

The right artwork – positioned in the right place – can totally transform a space. It has the power to give a room a touch of chic that seems to say, "We are a polished and put together household. Don't mind the toys on the floor. Look here instead."
It's kid friendly home design at it's best!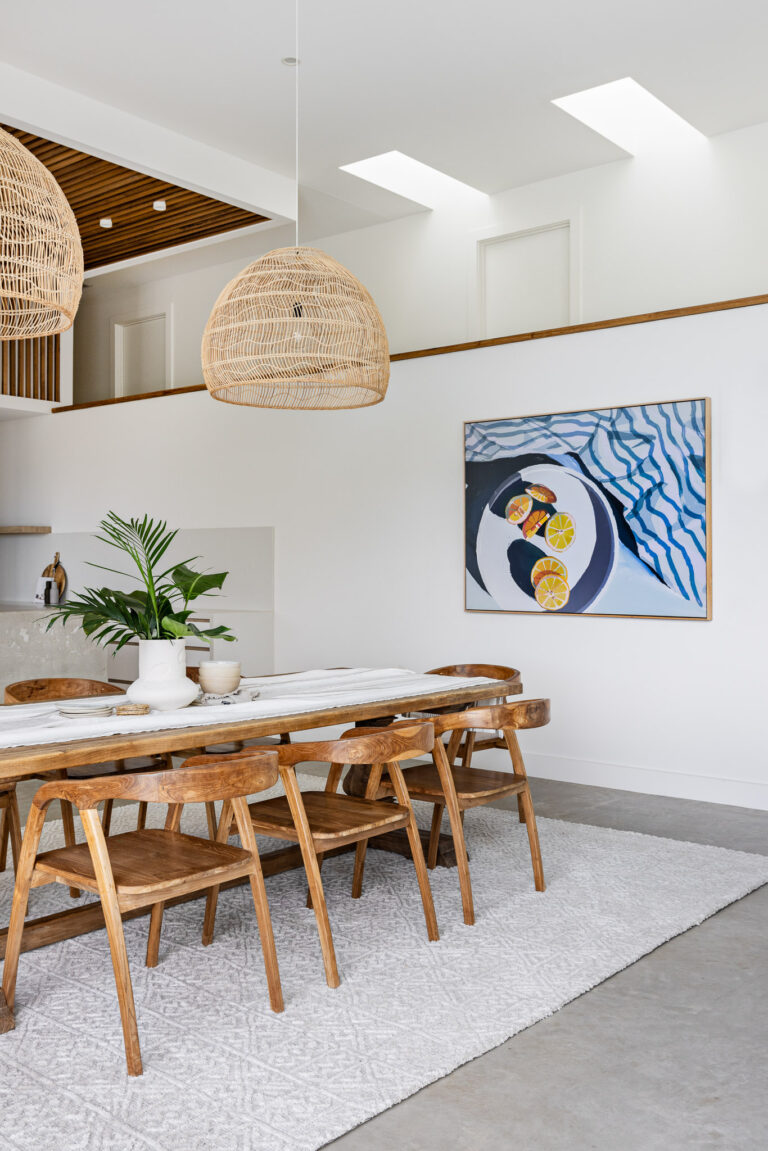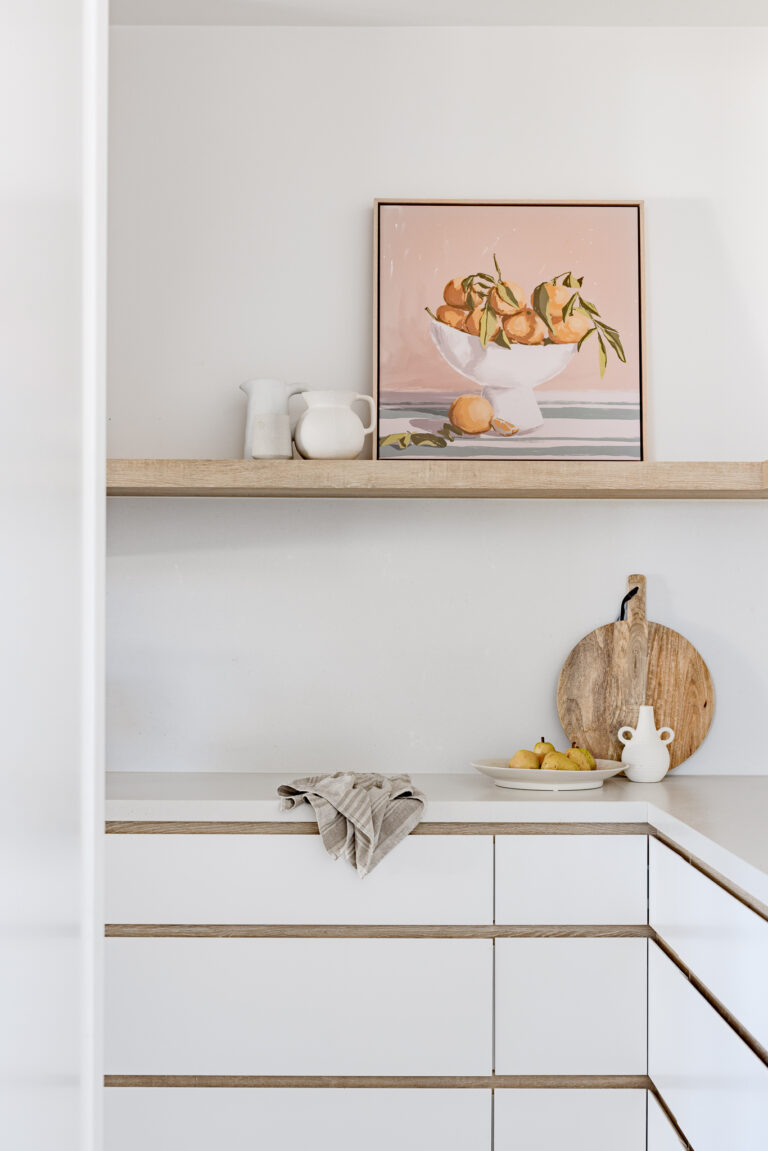 GET IT RIGHT AND THERE WILL BE NO TRAFFIC JAMS 

Every family has one of these. It's the nominated place in the home for directing all of the real chaos into something that resembles a more organised chaos.

The Control Centre is for storing school bags, putting artworks out of the way and helping the kids keep on top of their chores. 
Mine is in my pantry – it makes it easier for them to pack and unpack their school lunch every day. It's also close to the kitchen, where we all seem to congregate anyway.
I recently updated my control centre to include a monthly family planner and for each of my three kids…
IT'S A SIGHT FOR SORE EYES, AND FEET
In our house, shoes are the first thing that get kicked off when you walk through the door. But nobody wants to see a pile of messy shoes as they enter your home.

Having a designated shoe storage near your main entry area, i.e., the front door or internal garage access door will be your lifesaver in keeping messy shoes neatly hidden away.
It doesn't matter where you put it but having one somewhere in your home is a must. Here's some ideas of where to include one:
– Entry – but it's a good idea to hide it behind some pretty doors like we did in Dream Home 6
– Garage – Especially if you're like Sarah and you enter the home through your garage. 
 – Laundry – check out our best laundry/mudroom combo from Dream Home 7,
DON'T FORGET YOUR DISCOUNT CODES