IT'S ANOTHER NEW HOME BUILD
Get ready to satisfy your dream home cravings because boy, do we have a treat for you! We're back at it again as we proudly present.. drumroll please…Dream Home 8!
We're taking a slight detour from the norm with this new home build. But don't worry; as always we're going to peel back the curtain and give you an exclusive sneak peek into how we bring these homes to life. Did we mention there's an extra sprinkle of excitement at the end? 
Keep reading to find out more!
LOCATION MATTERS
Nestled on a tranquil suburban corner block, Dream Home 8 finds its place in a budding housing estate, just a stone's throw away from the vibrant heart of Sydney. And guess what? It's not all that far from Dream Home 5—talk about a dream neighbourhood!
 There is a lot of thought that goes into a new home build, even before construction begins. At times it can feel like a balancing act; between keeping council and land developers happy, sticking to a budget and designing a functional and practical family home, it can feel overwhelming. Luckily for you, we share all our "how to's" to minimise stress and make your building journey memorable for all the right reasons. 
Over the next month or so, we're taking you back to the very start to show you just how we have created Dream Home 8. From selecting and modifying our dream floor plan to perfectly suit our vacant block of land, to how we carefully chose our colour and material selections. You'll see just how we worked with our builder to bring this new home build to life.
OUR SECRET WEAPON
We've all heard some stories of building nightmares. But rest assured, the number of enjoyable, gratifying builds we see far outnumber the unpleasant stories! Although our hubbies are the head honcho's at Better Built Homes, just a quick glance at their product review page will reveal that it's not just us that think they're the bees knees. We love working with their knowledgeable (and very patient) team to create our dream homes. And Dream Home 8 is no different.
Are you considering a new home build but aren't sure if using a project home builder is the way to go? Allow us to shatter your doubts and show you just what you can achieve when you know what to do and when to do it. If you're ready to flip the script on uncertainty and roll out the red carpet to your dream home, tag along as we paint a vivid picture of what happens when passion meets expertise.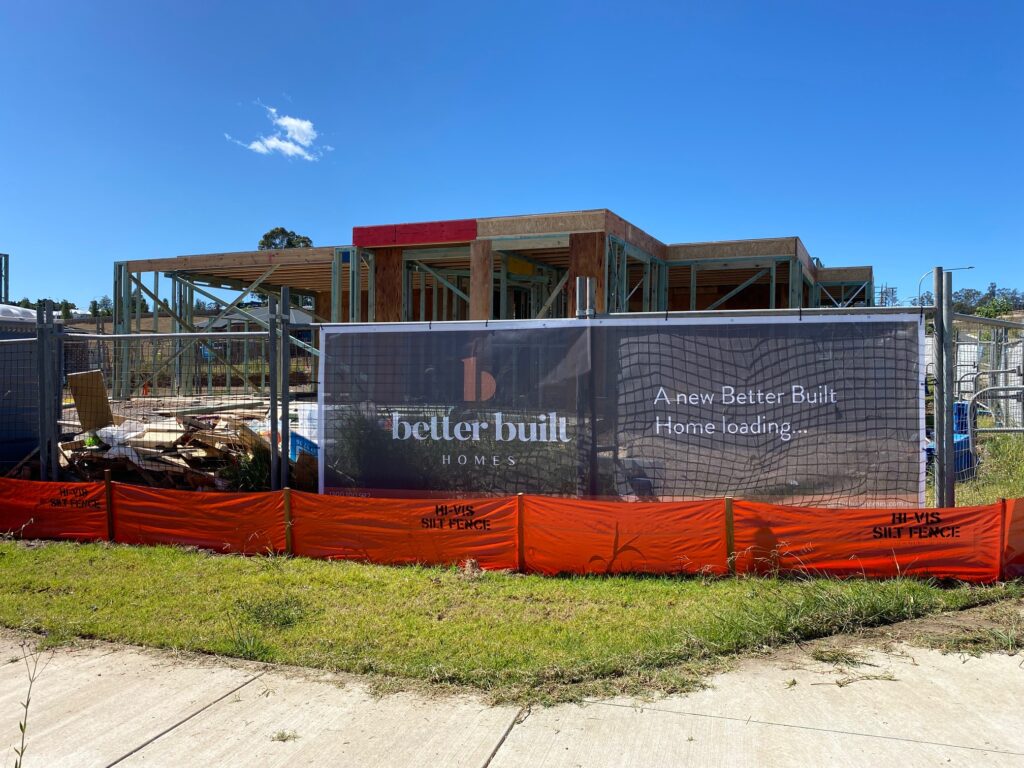 Another Better Built Home
MODERN AMERICAN FARMHOUSE
For many years we have swooned over Studio McGee, The Lifestyle Co and Leclair Decor. And now it's our turn to work our magic! In our newest home build, we're taking a page from their books and fusing our favourite features to create our very own modern American farmhouse style, right here in Australia. 
Imagine the timeless allure of black and white, with splashes of timber for that cosy embrace. We've painted a canvas that speaks of classic beauty with a hint of rustic warmth. The best part? We're here to prove that turning a cookie cutter design into a dreamy masterpiece is not just a dream, but an achievable reality. 
Buckle up, as over the coming days we will be sharing the behind the scenes of how we're bringing this style to life. So grab some popcorn and join us in the front row as we divulge the building process, one layer at a time. From our inspo to our new home build vision board, you're about to see it all. 
Make sure you're following us on Instagram and Facebook so you don't miss any of it!
WATCH THE DREAM HOME COME TO LIFE
Knowing how to choose the right builder will give you the assurance you need to make your decisions with confidence. Yes, you read that right—confidence, the secret ingredient that can make or break your new home building journey. When you are confident in your decisions, the construction journey for your new home build can be a breeze. 
Now let's talk patience. Building a new home is like watching a masterpiece unfold, piece by piece until your vision becomes reality. It can be a time consuming procedure, so trusting the process is crucial. Here's where we come in! We've got a backstage pass to the construction journey, and we're taking you along for the ride. Knowing what happens at each stage of construction helps you feel assured and builds excitement for each passing step.
Dream Home 8 Under Construction
THIS DREAM HOME IS ON DISPLAY
That's not a typo! For the very first time, we're swinging open the doors to one of our Dream Homes. This is your golden ticket. Once she's ready and gleaming you can come on over and explore every nook and cranny of Dream Home 8. From our floor plan to our internal selections, you'll get to see it all up close and personal. We can't wait to share this experience with you. Stay tuned for updates, and get ready to be captivated and inspired by the dream that's become a reality.
THE FINAL REVEAL: WATCH THE TOUR NOW