When it comes time to bring to life your next dream home, you can't go past having a clear vision on the style, colour scheme and materials you want to focus on. As we share the vision for our latest Dream Home 6, we want to highlight the importance of having a vision board to capture the look and feel of your next project.
GET STALKING STARTED
Seriously, when we started designing and building homes there was no such thing as 'the gram' or 'pinning'. It was old school cut and paste from our fav home mags or searching google images. We're really showing our age now, shhh don't tell anyone. Or maybe just our experience. #winkwink
Jokes aside there are so many places to stalk inspo for your vision board. It can be tempting to go overboard though and since we don't want anyone drowning in a sea of decisions, we thought we'd share our biggest tip: start big, then go small. If you find yourself pinning way too many pics on Pinterest or saving too many on Instagram, take a break (no really) and come back and do some serious culling!
If like us, you are designing a whole home at once, you may want to create a vision book with a board for each room that you can smack all your ideas together in the one place. That way you'll create a home that doesn't make you shriek every time you walk through the front door. Once you get your vision board make sure you take that baby with you for the next important step. You'll thank us later!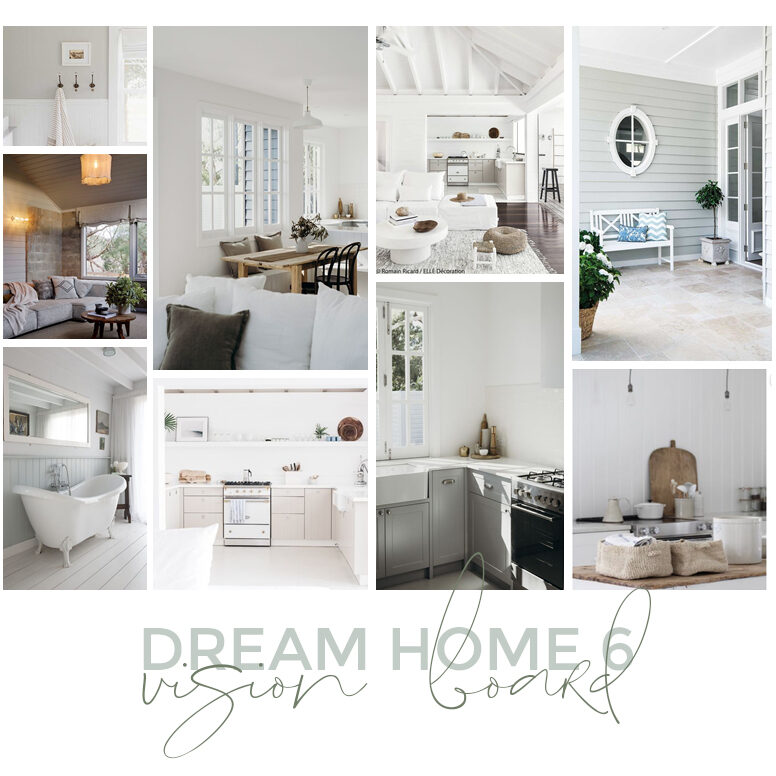 MAKING SELECTIONS
From tiles, flooring and carpet to tapware, stone and wall colours…..feeling decision fatigue yet?! There are so many flippin' selections to make in a new build. The most hair-raising part of it all is that it all needs to be done before the site is even excavated. Never fear, your 'handy dandy' vision board notebook is here (remember Blues Clues?). It is your design handbook that'll be sure to keep you on track the whole way through the design process. That way when construction begins you can sit back, relax (vino in hand of course) and leave it in the hands of your trusty builder. Not sure how to find the right builder for you? We have got you covered.
  How to choose the right builder for your new home
THE STYLE
We've shown you Heather's house the Palm Springs Retreat and Sarah's place the Modern Aussie Resort, but you've probably noticed by now that Dream Home 6 is heading in a slightly different direction. Since we are building this home to sell we need to send our personal design style to the curb (yeah right) and focus on creating a sight for sore eyes to get the best possible sell price for this baby, cha-ching! The starting point for us was what style we wanted to create based on the local hood. It's a 450 square metre block and we are building a 27 square home from Better Built Homes in a semi-rural estate. For us that screams…
COSY COUNTRY COTTAGE
Let's talk about our feelings? You know that feeling when you sit next to a fireplace on a cold Winter's day, yes that one, that's cosy! And that's exactly the feeling we wanted to create the moment people walk through the front door. In this series, we're going to show you how to recreate that cosy cottage vibe.
Since a narrow frontage means a narrow façade, we felt that a cute cottage façade would give the ultimate street cred to this home. You know the kind where people stop and stare…for all the right reasons, you know exactly what we're talking 'bout! Taking inspo from other country cottage style homes meant we could create a Dream Home that suited the local area to a tee! #holeinone
PERSONALITY PLUS
New project home builds don't have to be boring or give you any more greys! There are some sure simple ways to inject charisma into your brand new home and one of those is texture. Don't miss that trick when creating your old faithful vision board. And since we're taking our inspo from country cottages, our vision includes v-groove cladding, dado rails and of course shaker cabinetry. Our vision boards for Dream Home 4 and 5 featured the gorgeous stone wall cladding because it perfectly suited our personal style. Are you feeling us?
What's your favourite style and how can you use inspo to add personality into your home?